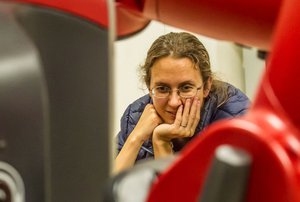 Recently, members of the Brown CS faculty have made historic contributions to global cybersecurity and nuclear non-proliferation, launched a world-class virtual reality environment, played a major role in the expansion of K-12 computer science education, and received honors from sources as diverse as Wired UK and the American Academy of Arts and Sciences.
These are just a handful of stories from only recent years (visit CS News and CS Blog for others). Click any link below to read the full article.   
2019
Amy Greenwald Gives A Keynote At UEMCON
Shriram Krishnamurthi Gives An Invited Talk At PWLConf (Recording Available)
Paul Valiant Wins A Theory Of Cryptography Conference Test Of Time Award
Markatou And Tamassia Win The ISC Best Paper Award
Andy van Dam's ACM Hypertext Keynote Will Reflect On A Half-Century Of Hypertext
Sohini Ramachandran Receives A Presidential Early Career Award For Scientists And Engineers
Huang Wins An Army Research Office Young Investigator Award For Predicting Emotion From Social Media
Shriram Krishnamurthi Gives A Plenary Talk At FCRC 2019 (Recording Available)
Kamara And Moataz Work With MongoDB To Analyze Its End-To-End Encryption
Eickhoff, Ritchie, Tellex, And Tompkin Win OVPR Seed Awards
Iris Bahar Wins The Marie R. Pistilli Women In Electronic Design Award
George Konidaris Wins An NSF CAREER Award For Autonomous Robotic Learning
IGT Celebrates Don Stanford As He Makes A Major Career Transition
2018
Kathi Fisler's OOPSLA Keynote Defends "Little Code"
Theophilus Benson Wins A Google Faculty Award And NSF Grant For Improving Network Performance In Emerging Regions
Novotny And Collaborators Win The VIS Best Poster Award For Visualizing Dinosaur Tracks
Steven Reiss Wins The VISSOFT 2018 Most Influential Paper Award
Michael Littman Receives Brown's Presidential Faculty Award
Tim Kraska Wins The VLDB Early Career Research Contribution Award
Pombrio, Krishnamurthi Win The PLDI Distinguished Artifact Award For Inferring Rule Types For Syntactic Sugar
Felzenszwalb Wins The Longuet-Higgins Prize For Fundamental Contributions To Computer Vision
Tom Doeppner Wins A Hazeltine Citation For Excellence In Teaching, Guidance, And Support
Michael Littman And Paul Valiant Win Excellence In Teaching Awards
Theophilus Benson Wins An NSF CAREER Award For Bug Tolerant Networking
Stefanie Tellex Wins An Early Career Research Achievement Award
Shriram Krishnamurthi Gives A Keynote At École Polytechnique Fédérale De Lausanne
Shriram Krishnamurthi Will Give A Keynote Lecture At Programming 2018
Theophilus Benson And George Konidaris Earn Salomon Awards
Theophilus Benson's Work Wins An Applied Networking Research Prize
Lack Of Diverse Speakers At RSA 2018 Provokes The Creation Of A New Conference
Amy Greenwald And Seny Kamara Receive Promotions
Krishnamurthi's Article On Programming Languages Is The Communications Of The ACM Cover Story
Seny Kamara Co-Authors An NAS Report On Encryption
Brown CS Hits Maximum Attendance In Herlihy's New Blockchains Course
Brown CS Faculty And Alums Have Written Some Of The Most Cited Security Papers Of The Past Three Decades
Kamara, Moataz, And Zhu Use Structured Encryption To Create Pixek, Offering Searchable Privacy For Digital Photos
Shriram Krishnamurthi Will Co-Lead The Communications Of The ACM Research Highlights Editorial Board
Vasileios Kemerlis Wins A $3.2M Grant For OS Kernel Protection
Seny Kamara Advises On Privacy-Protecting Technical Solutions In Forthcoming Legislation
2017
Upfal, Binnig, Kraska, Van Dam Win A $3.1M DARPA Grant To Build New Data Exploration Software
Stefanie Tellex Wins A CAREER Award For Robots That Help People
Tim Kraska Is The Winner Of The University-Wide Early Career Research Achievement Award
Maurice Herlihy Is The Winner Of The University-Wide Research Innovation Award
Brown CS Announces Major Achievements In Data Science
Rodrigo Fonseca And Collaborators Win An NSDI Test Of Time Award
Bootstrap Brings The Next Generation The Data Science They'll Need
Caroline Klivans Disproves A 35-Year-Old Conjecture
Shriram Krishnamurthi Will Receive An Honorary Doctorate From Università Della Svizzera Italiana
Tellex, Rosen, And Whitney Use Social Feedback To Help Robots Fetch Objects Intelligently
Peter Wegner Receives A Recognition Award For His Work With The Faculty Bulletin
Celebrating 25 Years Of Michael Littman's Contribution To The First Email Attachment
Theophilus Benson Joins Brown CS As Assistant Professor
Tim Kraska Receives A Sloan Research Fellowship
Brown CS Faculty Earn Sloan Fellowships Four Years In A Row, For A Total Of Eight
Jeff Huang Finds Out How Gamers Get Good
Kathi Fisler Has Been Appointed Professor (Research) And Associate Director Of The Undergraduate Program
Daniel Ritchie Joins Brown CS As Assistant Professor
Ian Gonsher, Jeff Huang, And Stefanie Tellex Win OVPR Seed Awards
Eli Upfal Receives The President's Award For Excellence In Faculty Governance
Pedro Felzenszwalb And Alum David Blei Talk About AI With The ACM
Michael Littman Chats With Neil deGrasse Tyson About AI And Society
Krishnamurthi And Quay-de la Vallee Look At App Store Insecurity In Fast Company
Stefanie Tellex And Baxter Provide Local Kids With A Glimpse Of The Future Of Robotics
Sherief Reda Has Been Named One Of 11 RI Innovators
2016
Congressional Quarterly Roll Call Documents John Savage's Contribution To A Historic International Cybersecurity Agreement
Maurice Herlihy And Eli Upfal Are Appointed To Named Chairs
Where Meter Meets Mainframe: An Early Experiment Teaching Poetry With Computers
Paul Valiant Wins A Hazeltine Citation For Excellence In Teaching, Guidance, And Support
Bootstrap Plays A Key Role In CS4RI Expansion Of CS Education In Rhode Island
Seny Kamara Joins Brown CS As Associate Professor
Jeff Huang Wins An NSF CAREER Award For Modeling User Touch And Motion Behaviors For Adaptive Interfaces In Mobile Devices
Stefanie Tellex Receives A Sloan Fellowship
BDH Praises Bootstrap's Contribution To Improving CS's Accessibility And Diversity
Bootstrap Plays A Role In White House CS Education Initiative
Stefanie Tellex Named One Of Wired UK's Women Who Changed Science In 2015
2015
Stefanie Tellex And John Oberlin's Award-Winning Video Earns Brown CS A New Baxter Robot
Anna Lysyanskaya Reelected An International Association For Cryptologic Research Director
Kraska, Binnig, Cetintemel, And Upfal Contribute To Northeast Big Data Innovation Hub
Touch Art Gallery (TAG) Expands Worldwide With A Nobel Museum/Nobel Media Collaboration
Stefanie Tellex Wins A DARPA Young Faculty Award For Research In Human-Robot Communication
Erik Sudderth And Collaborators Advance Seismic Monitoring And Nuclear Non-Proliferation, Earning A Top Prize In Bayesian Analysis
Mace, Roelke, And Fonseca Win A Best Paper Award At SOSP 2015
Maurice Herlihy Joins Dijkstra, Needham, And Others In The SIGOPS Hall Of Fame
"A New Form Of Computer-Based 'Manuscript', Called A Hypertext": Time Magazine Cites AVD's Pioneering 1974 Work
Stan Zdonik And Co-Authors Win VLDB's 10-Year Best Paper Award
Crotty, Galakatos, Zgraggen, Binnig, And Kraska Win Best Demo At VLDB 2015
Tim Kraska, Andy van Dam, And Carsten Binnig Win A Google Faculty Research Award
Breaking Assumptions: Vasileios Kemerlis Joins Brown CS As Assistant Professor
Michael Littman Named To DARPA ISAT Study Group
"Dazzling": The Boston Globe Attends The Yurt's Launch And Inaugural Symposium
Tim Kraska Wins NSF CAREER And AFOSR Young Investigator Awards
Brown CS Uses Minecraft To Unboggle The Robot Mind
Michael Littman Wins IFAAMAS Influential Paper Award
Philip Klein Wins Radcliffe Institute Fellowship
Visualization And Creativity In Immersive 3D Environments -- From Cave To YURT: May 20-21, 2015
John Savage Appointed To Rhode Island's First Cybersecurity Commission
Nobel Laureates, Scholars To Discuss Computation In The Future Of Their Fields At May 12-15 Symposium
Maurice Herlihy Inducted Into American Academy Of Arts And Sciences
Jeff Huang Wins NSF CRII Grant And Salomon Award
Rodrigo Fonseca Wins NSF CAREER Award
Ugur Cetintemel Wins IEEE Data Engineering (ICDE) 2015 Influential Paper Award
Maurice Herlihy To Join Concurrency Experts At LASER Summer School On Software Engineering
Michael Littman Refutes "Doomsday" AI Fears In Live Science