Theophilus A. Benson's Work With Programmable Data Planes Offers Fundamental Changes To Packet Processing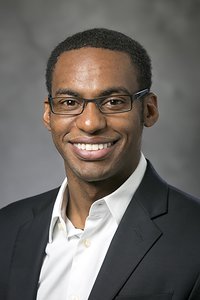 Click the links that follow for more news items about Theophilus "Theo" A. Benson and other recent accomplishments by Brown CS faculty.
In recent years, software defined networking has exploded in popularity as programmers have made a concerted effort to move the control plane (which handles traffic sent to a device or generated on the device) to a logically centralized machine. This development has led to breakneck innovation in the field of computer networking, and Professor Theophilus "Theo" A. Benson of Brown CS has seized the opportunity to explore even newer horizons. 
"Programmable data planes are essentially Lego blocks that can be built together and made into whatever you want," Theo explains, "and they are responsible for packet processing and forwarding on network devices." Programmable data planes are used for high-speed packet processing when handling packets that pass through a device and the forwarding logic it's capable of executing is mutable. It's this aspect that Theo's work focuses on – exploring the programmability of these data planes. 
"Recent efforts to develop reconfigurable data planes and high-level network programming languages have made it possible to truly program the data plane – in other words, to change the way packets are processed on network devices," says Theo. "The ability to fully program the network – both control and data plane – is expected to have a profound impact on the field of networking in the coming years."
What inspired Theo to work on this field of study? For him, it was the limitless potential afforded by such technologies: "I had this idea of having programmable networks, cloud infrastructures that are robots, clouds that automatically figure out what their problems are and fix themselves, figure out resource allocation – with programmable networks we are a step closer." Theo's research has increasingly focused on this topic, with recent work including a workshop paper laying out the vision for programmable data planes, another paper discussing methods for debugging the data planes, a recent Eurosys paper exploring possible speed enhancements for this networking technology, and a keynote delivered at the International Workshop on Edge Systems, Analytics, and Networking. 
With such rapid progress, where would Theo say this research is headed in the future? "Well, we've started to look at some machine learning," he says, "and we're looking into discovering intelligent algorithms to put things together, and into figuring out how to make the network configure itself to make this dream happen."

For more information, click the link that follows to contact Brown CS Communications Outreach Specialist Jesse Polhemus.