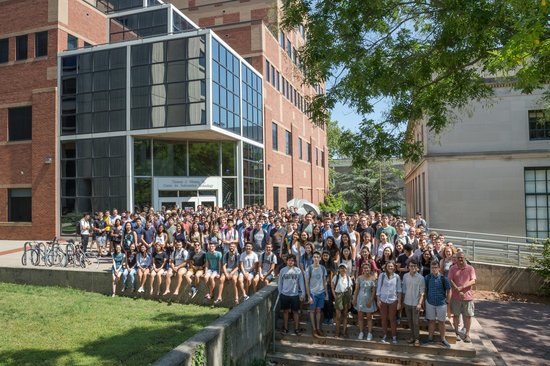 Before continuing, please read the Brown CS 2020-21 Plan, which may replace some of the information below.
Our undergraduate teaching assistant (UTA) program is unlike any other. It employs more than 300 undergradutes each semester, and every one of these students is given the chance to effect change, working closely with the professor, other UTAs, and other students. UTAs and non-UTAs alike can use this page to better understand the UTA program, what it has to offer, and what a UTA has the opportunity to do.
As of Summer 2021, the Meta TAs are Shenandoah Duraideivamani, Zachary Espiritu, Mark Lavrentyev, and Julia McClellan.
Named UTAships
Generous gifts from the donors of the Brown CS UTA Endowment have funded dozens of UTAships to help this important program continue for years to come. Here's our current list of donors and recipients:
 
Fall UTAships
Meta UTA
Brad Silverberg '76, P '11 Meta UTAship in honor of Brown University President Christina H. Paxson
Brad Silverberg '76, P '11
Julia McClellan
Brad Silverberg '76, P '11 Meta UTAship in honor of Norm Meyrowitz '81
Brad Silverberg '76, P '11
Shenandoah Duraideivamani
David and Molly Wadhwani Foundation Meta UTAships in honor of Andy van Dam
David Wadhwani '93 and Molly Wadhwani
Mark Lavrentyev
Norm Meyrowitz '81 Meta UTAship in honor of Ugur Çetintemel
Norm Meyrowitz '81
Zachary Espiritu
Head UTA
Alan Schiffres Head UTAship
Alan David Schiffres '79
Griffin Beels
Anonymous Head UTAships (5 UTAships)
Usha Bhalla, Bryce Blinn, Zachary Espiritu, George Lee, Julie Wang, Julia Windham

Bob Petrocelli Head UTAship

Giselle Garcia
Ed Lazowska '72 and Lyndsey Downs Head UTAship in honor of Andy van Dam
Ed Lazowska '72
Shenandoah Duraideivamani
Guttag Family Foundation Head UTAship in honor of Andy van Dam
John Vogel Guttag '71, ScM '73
Star Su
James and Zem Joaquin Head UTAship for Underrepresented Minorities
James Joaquin
Evan Velasquez
John Gannon Memorial Head UTAship in honor of Andy van Dam
Nancy C. Garrison '70, Frank William Tompa '70, ScM '70
Jason Fischman
Theresia Gouw '90 Women in Computer Science Head UTAship
Theresia Gouw '90
Laura Wilson
UTA
250th Anniversary UTAships in honor of Andy van Dam (10 UTAships)
William Buerger, Ethan Chung, Parth Kurani, Naomi Lee, Lily Mayo, Maia Mongado, Rajdeep Paul, Subhanik Purkayastha, Kyle Qian, Phum Siriviboon
Anonymous UTAships (3 UTAships)
Rajyashri Battula, Nicole Cheng, Mark Lavrentyev
Brad Silverberg CS '76, P '11 UTAship in honor of Andy van Dam
Brad Silverberg '76, P '11
Brandon Li
Brown Alums of DTrace UTAship
Bryan McDowell Cantrill '96, Adam Hodgson Leventhal '01
Benjamin Givertz
Brown Alums of Macromedia UTAship
Karen Smith Catlin and Timothy J. O. Catlin, Matthew Chotin '99, Lisa Gelobter, Eliot Seth Greenfield '96, Norm Meyrowitz '81, David Wadhwani '93, Heidi Bauer Williams
Benjamin Hurd
Craig Mathias UTAship
Craig Jeffrey Mathias '75
Alkim Kara
David Salesin UTAship in honor of Andy van Dam
David Salesin
Annie Cimack

Eric Horvitz UTAship in honor of Andy van Dam
Eric Horvitz P '19

Isa Milefchik
EverTrue@Apple UTAship in honor of Tom Doeppner
Jake Albert '11, Stephen Tyrone Canon, Todd Allan Shortlidge, Soren Spies '00, Alexa Marie VanHattum
Jusung Lee
Hal Webber UTAship in memory of Charles Strauss
Hal Webber '72
Shekar Ramaswamy

Heidi Dix '82 UTAship for Women in CS
Heidi S. Dix '82

Alexandra Christine Ryan
Hotel CIT UTAship in honor of Tom Doeppner
Lubomir Bourdev '98, ScM '98; Luke E. Camery; Shelly Chang '99; Peter Demoreuille; Jonathan Eldridge; Kenneth Fuller; Jonathan Gherardini; Albert Huang; Maureen Gordon Johanson AB '73, ScM '81; Stephen R. Marschner; Jonathan Paul; Jose and Barbara Rotger; Miraj G. Shah '16; Gary Sockut; Eric Tamura; Celeste Tremel; Michael Warres
Margaret Beardsley
James Rinzler UTAship
James K. Rinzler '86
Sally Zhi
John Patberg UTAship in honor of Andy van Dam
John Patberg
Kristen Mashikian

Lian and Itay Neeman UTAship for Women in CS
Lian and Itay Neeman

Allison Yeh
Mayumi Hikata Webber UTAship in memory of Akira and Kazuho Hikata
Mayumi Hikata Webber '75
Isaac Hilton-VanOsdall
Michael Shapiro UTAship
Michael William Shapiro '96, ScM '97
Zhaoyi Zheng
Michael Strickman UTAship
Michael D. Strickman '83, P '13
Connor Jordan
Pozevsky-Shecter UTAship
Diane Shecter Pozefsky, Mark Pozefsky
Ariana Barzinpour
Rick Breslow '79 and Elizabeth Breslow P '14 UTAship in honor of Donald Breslow '54 and Sam Breslow '14
Richard Breslow
Jillian Talenda
Rob Gurwitz UTAship in honor of Andy van Dam
Robert Frey Gurwitz '77, ScM '79
Michael Cosgrove
Sandra Galejs '80 UTAship for Women in CS
Sandra Lilian Galejs
Thananun Prasertsup
UTAships in honor of Andy van Dam (2 UTAships)
Oneshin Aiken; Scott E. Anderson; Dan and Nancy Bergeron; Jane Bielawa Lisa Borden; Jovanna Brooks; Henri Rudolph Bulterman '71, ScM '07; Russell W. Burns; Atul Butte AB '91 and Gini Deshpande; Gregory McGuire Chatzinoff '15; Ming-en Cho; Carol Chomsky; Alexander J. Cohen; Michael F. Cohen; David Brookshire Conner; Steven M. Drucker '84 and Lourdes Romao; Margo Lustig Ezekiel; Steven Keith Feiner; Barry L. Fellman '75; James D. Foley; Gianna Giancarlo; Michael Girardi; Bernard Michael Gordon; Joel Grossman; Seung Hong '97; Jennifer Faith Inman; Maureen Gordon Johanson AB '73, ScM '81; Thor S. Johnson; Hisato Kato ScM '91; Luther Kitahata; William Leigh '71, ScM '77; Michael Levinger; Paton J. Lewis; Lee Markosian; Trey Matteson; W. Scott Meeks, ScM '88; Nancy E. Mond; Meredith Ringel Morris; Don Nadel '74; David B. Nanian '83; Todd Needham; Michele T. Nicen-Parry '79; David Correa Orozco '15; Shirin Oskooi; Bryan Tyler Parker; Kenneth E. Prager; Clare Rabinow '72; Richter A. Rafey; Richard R. Reisman; Kirk Reistroffer ScM '83; Elaine Rich; Edwina Luane Rissland '69; Steven Edward Sevcik; Taylor Shaw; David Paul Simons '90; Kenneth Robert Sloan '69; Bob Smith; Scott Snibbe; Beth Stonebraker; Paul Strauss; Selim Tezel; Barry A. Trent '81; William E. Turrentine; Oren Joseph Tversky; Alex Unger; Frederick Wang; Frank J. Wezniak '54, P '89; Larry Weissman '70; Nicole Yankelovich '83; Andrew Joseph Young; Dan Zhang
Eric Elliot, Ji Yun Han
UTAship in memory of Charles Strauss
Paul C. Anagnostopoulos, Michael J. Braca
Nickolas Eisele
Will Povell '20 UTAship
Melissa Wang
Women of CS '84 UTAship for Women in CS
Pascaline Servan-Schreiber '84
Hannah Haas
Women of CS '85 UTAship for Women in CS
Karen Smith Catlin '85 and Timothy J. O. Catlin; Lise Pfau Ciolino '85; Maria Francesca Fernandez '85 ScM; Grace M. Kim; Rosemary L. Perera '85; Jennifer B. Richlin '85; Janine A. Roeth '85 Karen L. Seiler '85; Elisabeth A. Waymire '85; Mason Woo '83, ScM '86
Zsofia Biegl
Worldreader UTAship
J. David Risher P '19
William Schor

Spring UTAships
Meta UTA
Brad Silverberg '76, P '11 Meta UTAship in honor of Brown University President Christina H. Paxson
Brad Silverberg '76, P '11
Julia McClellan
Brad Silverberg '76, P '11 Meta UTAship in honor of Norm Meyrowitz '81
Brad Silverberg '76, P '11
Shenandoah Duraideivamani

David and Molly Wadhwani Foundation Meta UTAships in honor of Andy van Dam
David Wadhwani '93 and Molly Wadhwani

Mark Lavrentyev
Norm Meyrowitz '81 Meta UTAship in honor of Ugur Çetintemel
Norman K. Meyrowitz '81
Zachary Espiritu
Head UTA
Anonymous Head UTAships (10 Head UTAships)
Arvind Yalavarti, Aalia Habib, Suhye Park, Evan Velasquez, William Yang, Jack Ciabaton, Anna Finkelstein, Julie Wang, Monika Hedman, Colton Rusch
Anonymous Head UTAship
Shekar Ramaswamy
Bansal Ramaswamy Family Head UTAship
Sridhar Ramaswamy
Timothy Wang
Brown Alums of BodyLabs Head UTAship
William J. O'Farrell '84, P '16, P '19; Eric Rachlin
Yue Zhuang
Eric Tamura Head UTAship in honor of Tom Doeppner
Eric Tamura
Ethan Sattler
Katie Marie Atkins Head UTAship
Keith Michael Adams '00
Marina Triebenbacher
Kidderbrook Bell Family Head UTAship in Computer Science UTAship
Max Heller
Mark Vickers Head UTAship in honor of Andy van Dam
Mark Andrew Vickers '81
Daphne Li-Chen
NVIDIA Head UTAship in honor of Andy van Dam
Jeff Herbst '86, Ujval Kapasi '97, Brian Kelleher
Thomas Del Vecchio
Peter Norvig Head UTAship in memory of David Notkin
Peter Norvig '78
William Buerger
UTA
250th Anniversary UTAships in honor of Andy van Dam (10 UTAships)
Zlatko-Salko Lagumdzija, Harisen Luby, Neal Mahajan, Charlotte Whatley, Jason Crowley, Star Su Anika Ahluwalia, Calder Hansen, Abigail Siegel, Christine Waweru
Andy and Debbie van Dam UTAship in memory of Randy Pausch
Andy and Debbie van Dam
Anna Dai

Andy and Debbie van Dam UTAship in memory of Rick Harrington
Andy and Debbie van Dam

Zsofia Biegl
Anonymous UTAship (3 UTAships)
Priyanka Solanky, Alan Gu, Monica Roy
Anonymous UTAship in honor of Andy van Dam
Qianfan Chen
Bansal Ramaswamy Family UTAship
Sridhar Ramaswamy
Melissa Cui

Bern Haan UTAship
Bernard J. Haan '84

Alkim Kara

Black UTAship
Michael Black and BodyLabs

Kotone Ninagawa
Bob Drebin UTAship
Robert Andrew Drebin '84
Edward Xing
Brown Alums of EQuill UTAship
Benety H. Goh '00, Eliot Greenfield '95, Oliver Hurst-Hiller '98, Jesse Gardner Kocher '99, Matthew Rubin Lerner '98, David Keel Peck '99, Rafael Roberto Ruiz '94
Trevor Houchens

Brown Alums of iHarvest UTAship
Dennis Steven Buchheim '92, Matthew Helm Chotin, David Wadhwani '93

Jason Manuel
Christopher L. Chin '02 ScM '05 UTAship in memory of Tom Heft
Christopher L. Chin
Finnian Lowden
Class of '81 UTAship for Women in CS
Marion Golin, Linda Medvene, Norm Meyrowitz '81, Peggy Moser, Will Poole and Janet Levinger, Ellen G. Walker '81
Claire Oberg
Classes of 1966-1979 UTAship
Jeff Bergart; Richard Fox; Bonnie L. Friedman; Carolyn Kolb Grafton '67; Brian Takashi Hooper; Jonathan Prusky; Anne Goodale Kemerer '79; Bruce Leader '74, P '13; Estee Robinski Pickens '76; Eric Roth; Barbara G. Ryder '69, P '95; konstantinos roussos
George Lee
Classes of the 1980's UTAship
Jim Ambach; Penny Feinberg Bauersfeld; Ruben Becker; David Block '87; Jeremy Cohen; Bill Demas; John R. Durand; Susan J. Galvin; Warren Haber; Richard U. Hawkes '84; Craig Hemond; Alex Kass; Tim Kay '83; David Morris Lion; Swaminathan Manohar; Laila Mehdi '81, P '19; John Meisell; Matthew Allen Merzbacher '83, ScM '84; Nancy Mond; Joseph N. Pato '81; Will Poole and Janet Levinger; Pam Homsehr Promisel; Anthony Randazzo III; Naomi Rodolitz; Evan Rothfield; Mark Sommer ScM '85; John Toupin
Xiao Zhan
Classes of the 1990's UTAship
Jeffrey Henoch Alexander; Vidur Apparao; Kenneth Avenoso; Gregory Brail '91; Anthony R. Cassandra; Jesse Chan-Norris '99; Shelly Fong-ying Chang; Brynna Yvette Donn; Saori Taichi Fotenos; Glenn L. Frankel; John Gassenheimer '90; Courtney Hamilton; Philip Hubbard; Heng-Yi Lin; Bobby Mander; Jonathan Moter; Currier McEwen; Christopher Jude Nuzum; Pia Owens; Ana Maria Popescu; Andrew Schulak; Joshua Spiewak; Maarten van Dantzich; Danny Winokur '92
Ziwen Zhou
Classes of the 2000's UTAship
Sky Adams; Therese M. Avitabile; Andrew Winsor Brindamour; Spencer Thompson Brody; Kelly Buckley; Ashwin Cadambi '09; Adam Ross Cath; Ranyee Chiang '09; Peter Ciullo; Michael Coglianese; Tatyana Dyshlova; Jonathan Vendegrift Eldridge; Jeffrey Ericson '09; Matthew C. Feldman '09, ScM '10; Aisha Midori Ferrazares; Nathaniel Mathias Ford; Matthew Fornaciari '10; Ross Freiman-Mendel; Benjamin Gojman; Susan Elizabeth Goldblatt; John Goodwin '04; Abhas Gupta; Graff Haley '06; Alexander Heitzmann '10; Theodora Rae Hinkle '09; Melwyn Pak Yong Ho; Robert Lucas Jeffrey; Alex Kleiman; Natalie Klotz; Jamay Lau; Benjamin G. Leib; Daniel Hodgson Leventhal '07; Todd Lipcon; Karen Lostritto; Christopher Maloney '06, ScM '08; Paris Mavroidis; Paul Melnikow '03; Aaron T. Myers '07, ScM '08; Jonathan Natkins '08; Michelle Neuringer; Bryant Ng '03, ScM '04; Son B. Nguyen; Osmar A. Olivo; David Pacheco '07; Daniel J. Polivy '02; Louisa Rosenheck; Adam Samet '05; M. Curran Schiefelbein; Judah Schvimer '15; Serin Seckin; Kothai Senthil; Miraj Gandhi Shah; Caitlyn Shim; Ben Sigelman '03; Cecily T. Stepney; James Stout; Samuel Swarr '13; Dorota Szeremeta '01; Mark Turley; Megan Wachs; Shuai Wang; Bayla Miriam Weick '15; Joel Weinberger
Clark Oh-Willeke
Class of 2011-2015 "Hotel CIT" UTAship
Justin Ardini '12, Garrett E. Bressler, Ethan Cecchetti, Aisha Midori Ferrazares, Yudi Fu, Vihang Jitendra Mehta, Matthew Pierson Milano, Maggie Pace, Neal Poole '13, Beatrice Ann Sims, Miranda Steele, Miya M. Schneider, Jason Chek Heng Shum, Celeste Tremel, Kelsey Tripp 
Sarah Rockhill
Craig and Libby Heimark UTAship
Craig and Libby Heimark
Akshaan Parikh
CS15 Humor TAs UTAship in honor of Andy van Dam
Michael Joshua Demmer; Tim Garrett; Eliot Greenfield '95; Tashana Landray; Craig Jeffrey Mathias '75; Maggie Pace; Leah Pearlman; Gal Peleg; David H. Salesin '83; Jason Sobel '02, ScM '03
James Tsatsaros
Doreen Green UTAship for Women in CS
Carolyn Duby, Fin Hopkins, Tracy Hadden Loh '04, David Reiss
Marley Carroll
Eliot Horowitz UTAship
Eliot R. Horowitz '03
Ken Kawamura
Google UTAship
Google Corporation
Benjamin Fiske
Irv Lustig '83 UTAship
Irvin Lustig
Willem Speckmann
Kurt Fleischer '82 and Nagisa Yamamoto UTAship
Kurt W. Fleischer
Margaret Beardsley
Linnea Wile and Erik Wile '97 UTAship in memory of David Wile '67
Linnea Wile
Mohamed Ali
Marc and Ellen Brown UTAship in honor of the Department's Founding Seven
Marc Brown '80, PhD '87, P '12 and Ellen Melnick Brown '80, MD '83, P '12
Khemarat Boonyapaluk
Marion and Eric Golin UTAship for Women in CS
Marion and Eric Golin
Floria Tsui
Matt Cannizzaro UTAship for Underrepresented Minorities
Matthew John Cannizzaro
Jessica Gonzalez
Mattys UTAship
Matthew B. Amdur, Matt Eccleston
Kento Nambara
Melissa Birch '87 and Kirk Glerum UTAship
Melissa and Kirk Glerum
Delora Li
Michael and Caitlyn Shim UTAship
Michael and Caitlyn Shim
Jinwoo Choi
NP-Complete UTAship in memory of Paris Kanellakis
Matthew Nicholas Papakipos '91, Frederick Austin Parsons, NeilFred Picciotto '97, David F. Sklar ScM '84
Deanna Moorehead
Pamela and Jeffrey Vogel UTAship in honor of Andy van Dam
Pamela and Jeffrey Vogel
Damian Wasilewicz

Pattiz Family Computer Science UTAship
Davidson Pattiz '89 P '20 and Debby Pattiz '89 P '20

Junewoo Park
Paul Knueven UTAship in honor of Andy van Dam
Paul J. Knueven '69
Grace Lee
Paul Knueven UTAship in memory of David Wile '67
Paul J. Knueven '69
Leonard So
pMD UTAship
pMD Corporation
Darren Fang
Robert Blumofe UTAship
Robert David Blumofe '86
Stephanie Carrero
Singh Family UTAship
Rajesh Singh
Jillian Talenda
Supporters and Friends of the CS Department UTAships (4 UTAships)
Adam Abeshouse '14; Jaran Charumilind '00; Kimberly Cohen; Thomas W. Doeppner; Ann Ferme '90; Amy E. Flynn '94; Lawrence Forman '68; Douglas Halperin '79, ScM '79; Robert Hux '03; Shuang Ji; Isabelle Kargon; Emily Leventhal; Gregory Lloyd '70; Andrew and Eileen Marcuvitz; Emily McCully '61; Linda J. Moore PhD '90; shay Mozes; Brock Pytlik '03; Alexia Ramirez '16; Matteo Riondato ScM '10, PhD '14; Alexandra Schultz; Robert Sliney '63, P '96; Donald Stanford '72, ScM '77; Elise Torello P '18;  
Hannah Hiraki, Jarrett Huddleston, Zhaoyi Zheng, Claire Chung, Qiyu Han
TAG/NuSys Computer Science UTAship
Rex Green
Paul Biberstein
The Bishops '94 UTAship in honor of Cynthia Wayne Acker '59 and Stephen G. Bishop '65 PhD
Lars M. Bishop
Nam Do
Ting-Simshauser UTAship
Sandee Ting Simshauser '84 P '21 and Peter Simshauser P '21
John Paul Champa
UTAship for Underrepresented Minority Women in memory of Marie Moses '82
Stephen H. Beck; Isaac Berkowitz; Karen Smith Catlin '85, P '18, P '20 and Timothy J. O. Catlin; Eugene Charniak; Justin Cohen; Maria Francesca Fernandez '85 ScM '89; Sarah Michelle Filman; Lisa Gelobter; Gregory Irons; Ocie James Irons '81; Patricia E. Lutsky '82; Norm Meyrowitz '81; Valarie Moses; Carol Rosenstock; Stephanie Singer; Annie Steele; Neha Zope
Delmy Garcia
UTAships in honor of Andy van Dam (3 UTAships)
Oneshin Aiken; Scott E. Anderson; Dan and Nancy Bergeron; Jane Bielawa Lisa Borden; Jovanna Brooks; Henri Rudolph Bulterman '71, ScM '07; Russell W. Burns; Atul Butte AB '91 and Gini Deshpande; Gregory McGuire Chatzinoff '15; Ming-en Cho; Carol Chomsky; Alexander J. Cohen; Michael F. Cohen; David Brookshire Conner; Steven M. Drucker '84 and Lourdes Romao; Margo Lustig Ezekiel; Steven Keith Feiner; Barry L. Fellman '75; James D. Foley; Gianna Giancarlo; Michael Girardi; Bernard Michael Gordon; Joel Grossman; Seung Hong '97; Jennifer Faith Inman; Maureen Gordon Johanson AB '73, ScM '81; Thor S. Johnson; Hisato Kato ScM '91; Luther Kitahata; William Leigh '71, ScM '77; Michael Levinger; Paton J. Lewis; Lee Markosian; Trey Matteson; W. Scott Meeks, ScM '88; Nancy E. Mond; Meredith Ringel Morris; Don Nadel '74; David B. Nanian '83; Todd Needham; Michele T. Nicen-Parry '79; David Correa Orozco '15; Shirin Oskooi; Bryan Tyler Parker; Kenneth E. Prager; Clare Rabinow '72; Richter A. Rafey; Richard R. Reisman; Kirk Reistroffer ScM '83; Elaine Rich; Edwina Luane Rissland '69; Steven Edward Sevcik; Taylor Shaw; David Paul Simons '90; Kenneth Robert Sloan '69; Bob Smith; Scott Snibbe; Beth Stonebraker; Paul Strauss; Selim Tezel; Barry A. Trent '81; William E. Turrentine; Oren Joseph Tversky; Alex Unger; Frederick Wang; Frank J. Wezniak '54, P '89; Larry Weissman '70; Nicole Yankelovich '83; Andrew Joseph Young; Dan Zhang
Richard Hill, Benjamin Ryjikov, Eliza Berman

UTAship in honor of Tom Doeppner
Matthew Allan Ahrens

Milanca Wang
UTAship in memory of Mark Sobel and Joan Wilson
Carlos Perez-Ruiz
Vincent Lo UTAship
Vincent Lo
Kyle Qian
Will Poole and Janet Levinger UTAship in honor of Andy van Dam
Will Poole and Janet Levinger
Brian Tracy
Class of CS '83 UTAship for Women in CS
Jodi Green; David Laidlaw; Hambleton D. Lord '83; Barbara Meier; Jared Stern; Michael Strickman '83, P '13; Mason Woo '83, ScM '86
Ellie Madsen
Additional Donors
Fareed Behmaram-Mosavat, Chris Braun, Aaron S. Cohen, Thomas Freeman ScM '82, Ronald Jacoby, Hideaki Kimura, Bob Munck, Long Nguyen, Sonia Phene, Leon Wrinkles