Theophilus A. Benson Wins A Google Faculty Award And NSF Grant For Improving Network Performance In Emerging Regions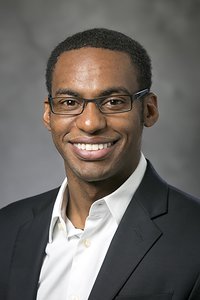 Click the links that follow for more news about Theophilus A. Benson or other recent accomplishments by Brown CS faculty.
Network performance has been one of Brown CS Professor Theophilus "Theo" A. Benson's core interests for years. And network performance in emerging regions, he says, is particularly interesting because it requires us to question assumptions about what works and what doesn't: "We can't just transplant network protocols designed for massive tech companies to developing countries, where there are huge infrastructure discrepancies." Earlier this year, he won a Google Faculty Award to develop network optimizations that can be brought to bear in developing countries, often overlooked, where mobile devices have become the primary mode of Internet access. The full list of recipients is available here.
The project begins in Pakistan, where Theo explains that mobile devices are often equipped with small memory sizes and slow CPUs. "For example," he says, "according to a recent study of mobile devices in Pakistan, 90% of devices were equipped with at most 1024 MB of RAM and 89% had 1 GHz or slower processors. Despite the prevalence of such devices in these markets, there are few systematic studies of the differences between web performance on low-end and high-end smartphones." 
The first step of the project will involve using low-end smartphones popular in Pakistan to conduct a large-scale measurement study to identify bottleneck resources (for example, CPU, memory, and network) in the page load process and analyze how these bottlenecks may change over time based on device characteristics, network connectivity, and page structure. Insights from this study, Theo believes, will help in understanding the effectiveness of various infrastructure design choices (such as the role of CDNs) and page load optimization techniques (for example, Polaris) for developing regions.
"We also believe from anecdotal evidence," Theo says, "that small memory sizes in existing low-end smartphones are a significant pain point. We're going to determine when, where, and why memory bloats —potentially leading to stalls and crashes— occur for different popular web pages. Using these insights, we'll develop optimizations that would aim to throttle the usage of memory-heavy web page resources."
This latest research continues work for which Theo earned a Richard B. Salomon Faculty Research Award earlier this year.
Finally, this Google Faculty Award is one of Beson's two recent grants. In late summer, he also received an unrelated National Science Foundation grant for a project that aims to improve network performance by tailoring web server configurations to match the specifics of each application and end user's technology. If successful, this proposal will fundamentally impact widely accepted principles for managing services and will enable a broad range of users to benefit from efficient operation of the growing set of essential web services.
For more information, click the link that follows to contact Brown CS Communication Outreach Specialist Jesse C. Polhemus.