George Konidaris Wins Brown's Romer Prize For Undergraduate Advising And Mentoring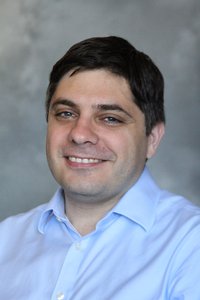 Click the links that follow for more news about George Konidaris, the Karen T. Romer Prize for Undergraduate Mentoring and Advising, and other recent accomplishments by our faculty.
Professor George Konidaris of Brown CS has just been awarded the Karen T. Romer Prize for Undergraduate Advising and Mentoring. This award, selected by a committee of students, faculty, and administrators, was created in 2004 to recognize and reward two faculty members annually who have demonstrated extraordinary care in attending to the academic and personal needs of undergraduate students. Each winner receives an award of $7,000.
George is the John E. Savage Assistant Professor of Computer Science and director of the Intelligent Robot Lab at Brown, which forms part of bigAI (Brown Integrative, General AI). George's research aims to build intelligent, autonomous, general-purpose robots that are generally capable in a wide variety of tasks and environments. His work develops and applies techniques from machine learning, reinforcement learning, optimal control and planning to construct abstraction hierarchies for goal-based planning.
George is the second Brown CS winner of the prize, and he joins a long list of prominent colleagues, including Professors Banchoff (Mathematics), Chudacoff (History), Elliot (Sociology), Garcia-Coll (Education), Green (History and Portuguese & Brazilian Studies), Lincoln (History of Art and Architecture), Pucci (Classics), Terry-Morgan (Africana Studies), Tullis (Geological Sciences), Vorenberg (History), Fischer (Geological Sciences), Hu-DeHart, (History), Cheit (Political Science and Public Policy), Swartz (Biology and Medicine), Blume (Engineering), Burwell (Cognitive, Linguistic, and Psychological Sciences), Harvey (Religious Studies), Shibusawa (History and American Studies), Willoughby Britton (Psychology and Human Behavior), and Jack Wright (Cognitive, Linguistic, and Psychological Sciences).
For more information, click the link that follows to contact Brown CS Communication Outreach Specialist Jesse C. Polhemus.