Crotty, Galakatos, Zgraggen, Binnig, And Kraska Win Best Demo At VLDB 2015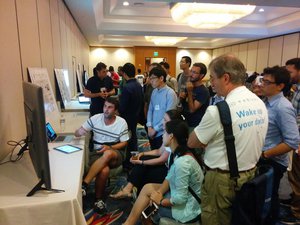 Last week, PhD Candidates Andrew Crotty, Alex Galakatos, and Emanuel Zgraggen; Adjunct Associate Professor Carsten Binnig; and Professor Tim Kraska of Brown University's Computer Science Department were awarded the Best Demo Award at the 41st International Conference on Very Large Databases (VLDB 2015) for their recent research ("Vizdom: Interactive Analytics through Pen and Touch").
VLDB is one of the most important annual international fora for data management and database researchers, vendors, practitioners, application developers, and users, covering current issues in data management, database, and information systems research. Crotty and his colleagues participated in the Demo 3 category (Systems, User Interfaces, and Visualization) but faced competition from groups in the Demo 1 and 2 categories as well, eventually defeating several dozen research teams from around the world.