BDH Praises Bootstrap's Contribution To Improving CS's Accessibility And Diversity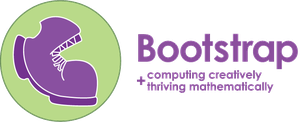 A recent Brown Daily Herald editorial about Bootstrap (a CS literacy curriculum used by 10,000 students in 17 states and five countries) strikes a note of appreciation: pride in the project's reach, in its efforts to be inclusive and effect cultural change, and in the fact that it two of its developers, Kathi Fisler and Shriram Krishnamurthi, are Brown University faculty members.
"By exposing middle school students of various identities to computer science at an earlier age," they write, "the curriculum gives them the chance to fall in love with the field before cultural barriers can take effect." There's also a parallel to newly-formed internal efforts: "Brown has recently started an initiative to improve diversity and accessibility within Brown, and we are happy to see that Brown faculty members have helped do that outside of Brown, as well." 
You can read the full editorial here.
For more information, please click the link that follows to contact Brown CS Communication Outreach Specialist Jesse C. Polhemus.