IGT Celebrates Don Stanford As He Makes A Major Career Transition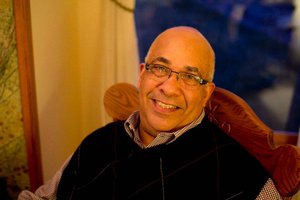 Click the links that follow for more news about our faculty and their accomplishments.
Adjunct Professor Donald L. Stanford of Brown CS is making a major transition in a career that's been marked by profound impact in the technology sector, education, and service to his community. Two weeks ago, he retired from his role as Chief Innovation Officer of IGT (formerly GTECH), which he joined in 1979 as its seventh employee.  
In an open letter, Marco Sala, CEO of IGT, praised Don's crucial contributions to research, development, sales, marketing, and project management activities, noting that during Stanford's first 22 years with GTECH, the company grew from a market share of five percent and sales of less than $1 million to a dominant worldwide market share of 70 percent, and sales in excess of $1 billion by the end of 2002. That was also the year in which Don began teaching for Brown CS and Brown's School of Engineering, and he now lectures for the Executive Master's program at the School of Professional Studies as well.
"Don has had an enormous impact on our Company," Sala says, "as a founding leader of the technology group, and later as an innovation mentor. He has worked tirelessly over four decades to ensure our lottery products and solutions have continuously eclipsed our competition while helping our customers grow their businesses."
Don's career has also been marked by considerable service to the community. He received the Black Engineer of the Year Award for Professional Achievement and the Honorable Thurgood Marshall Award for community service in 1999. Three years later, he received Brown University Graduate School's Distinguished Alumni Award. He also serves on the board of three Rhode Island organizations: the R.I. Business Innovation Factory, Year Up Providence, and Spectra Systems. 
"With 2019 marking my 40th year with IGT," Don says, "I felt it was fitting to close this part of my career on this anniversary, and at a time when the organization is experiencing its greatest successes to date. I'm looking forward to enjoying more time with my family, pursuing my hobbies, and continuing to teach at Brown, where I plan to keep working with our university partners to identify new talent."
You can watch Don reflect on his career at IGT and share his future plans in this short video.
For more information, click on the link that follows to contact Brown CS Communication Outreach Specialist Jesse C. Polhemus.