Iris Bahar Wins The Marie R. Pistilli Women In Electronic Design Award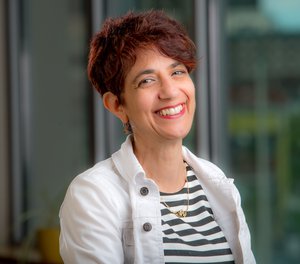 Click the link that follows for more news about other recent awards won by our faculty.
"I'm very honored to be receiving this award," says R. Iris Bahar, Professor of Engineering and Computer Science at Brown University, upon hearing that she's just won the Marie R. Pistilli Women in Electronic Design Award. "I'm passionate about helping to support and promote women in electronic design automation, and in computing more generally." 
Given annually since 2000 by the Design Automation Conference (DAC), the award, which is named for a former DAC organizer, recognizes individuals who have visibly helped to advance women in the field of electronic design. In the official press release, the conference's organizers cite contributions by Iris that are "as impactful as they are diverse" as well as her numerous papers and citations, and name her one of the pioneers in identifying power consumption as the premier constraint for computer architects and system designers.
"Iris has walked and bridged the boundary between electronic design and computer architecture and has become a leader in both fields," says Diana Marculescu, David Edward Schramm Professor and past Marie R. Pistilli Award winner. "Given Iris' technical contributions to the field of EDA and her dedication to the goal of advancing the status of women in electronic design, I cannot think of a more deserving recipient."
For Iris, advancing women in computing has included high school outreach, innovative course development, dedicated efforts to include female students in her research, and organizing as well as speaking at career development workshops. And the work continues.
"When I attend conferences in my research area," she says, "I usually find women make up only around 10-15% of the total number of attendees. I would like to see this number grow significantly in the near term, which means continuing to help females, from high school to long-time professionals, feel welcomed, recognized, and valued in in the greater computing community (including both academia and industry). I'm excited to continue my efforts in the years to come."
Iris will receive the award during the 56th DAC, which will be held from June 2-6, 2019, in Las Vegas. 
You can read the full DAC press release about Iris and her award here.
For more information, click the link that follows to contact Brown CS Communication Outreach Specialist Jesse C. Polhemus.