Touch Art Gallery (TAG) Expands Worldwide With A Nobel Museum/Nobel Media Collaboration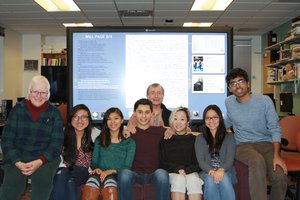 Brown University's Department of Computer Science (Brown CS) today announces a major milestone for the Touch Art Gallery (TAG) project, one of the most visible recent successes of the department's undergraduate research program. Working under the direction of Professor Andy van Dam, a group of entirely undergraduate researchers in the Graphics Lab has demonstrated the power of technology to enhance research and learning with two state-of-the-art museum experiences that focus on Alfred Nobel's final Will and the 900 Nobel laureates to date.
The experiences, a collaboration between Brown University, the Nobel Museum, and Nobel Media, use a uniquely compelling form of interaction to give new life to documents that hold a significant place in human history. They debut in Singapore on November 7 during the two-day "Future of Learning" Nobel Media Conference at Nanyang Technological University, but enthusiastic news coverage has already begun, with Channel NewsAsia devoting a television news segment to these "ideas that changed the world".
TAG is sponsored by Microsoft, and the experiences are hosted on two 82-inch Microsoft touch displays, a 55-inch touch display, and six smaller Surface touch tablets. They'll be housed at the ArtScience Museum in Singapore for the next three months, where they're projected to be seen by thousands of visitors. Afterward, the experiences will be incorporated into a larger traveling exhibit by the Nobel Museum.
From the start of the project, students in their earliest years of higher education have made contributions that rival the efforts of far more experienced peers in the technology sector. Both experiences were tested by some fifty undergraduate students at Brown, many of them from van Dam's introductory Java programming class. The testing sessions provided valuable feedback on user interaction with the experiences, and many design decisions were fine-tuned after the user studies. The current TAG team leader, Trent Green, traveled to Singapore to oversee the exhibit's installation, interacting with multiple Nobel laureates while still a sophmore.
The first of the experiences focuses on Alfred Nobel's final Will, in which he set aside part of his fortune to fund annual prizes for the top global researchers and practitioners in the fields of physics, chemistry, literature, physiology and medicine, and peace. It uses a digital scan of the hand-written Will as its anchor, using key words and phrases in the document to tell the story of Nobel's life as an inventor and industrialist as well as the establishment of the Nobel Foundation after his death. From the Will interface, visitors can link to related collections of high-resolution images, which can be explored in depth via pan and pinch-zoom gestures that are familiar to any smart phone user. They can also watch "interactive tours", which combine audio narration as well as panning and zooming images. Unlike traditional videos, the tours can be paused at any time to allow touch interaction with the visual elements on screen. For many of the images, additional information is also provided to viewers via a sidebar.
The second experience focuses on the 900 laureates who have won Nobel Prizes since the first award ceremony in 1901, the most recent of whom were announced this October and will be honored this December. Images of the laureates are displayed in a grid on screen and can be filtered via combined queries over prize category, gender, and decade filters and also searched by name or other metadata fields such as country of origin. Touching a laureate's image launches a pop-up with more information about the contributions that led to their Nobel Prize recognition.
"It's been exciting for us to work on a project that will have such high visibility," says Lucy van Kleunen, the previous undergraduate TAG team leader. "Designing large display touch exhibits has also been an instructive research experience in user interface and experience design for a large screen form-factor."