Seny Kamara Keynotes CRYPTO 2020 With "Crypto For The People"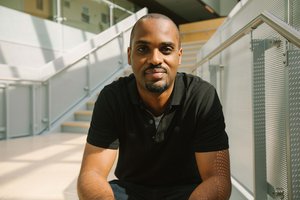 Click the link that follows for more news about Seny Kamara and other recent accomplishments by our faculty.
"As a disclaimer," says Professor Seny Kamara of Brown CS, "I want to say that this is not a technical talk...so what am I doing here? Why am I giving a talk at CRYPTO if I'm not talking about technical things? I'm here because Ahmaud Arbery was killed in February, because Breonna Taylor was killed by police officers in March, and because George Floyd was also killed by police officers in May."
CRYPTO 2020, which is being held virtually this week, is the world's flagship cryptography conference, sponsored by the International Association for Cryptographic Research. Seny's words above are the start to a very atypical keynote that was shaped by his experience of being Black, an immigrant, an applied cryptographer, and in particular, an outsider: one of perhaps only two or three Black cryptographers in the world. 
"My goal is not to convince you that my perspective is the right one," Seny explains, but to share a point of view that he says has not yet been expressed within the cryptography community. In his talk, he takes a critical look at who benefits from cryptography as it currently stands and explores how it can be used to fight oppression and violence: both topics featured prominently in Seny's recent courses, CSCI 2952-V Algorithms for the People and CS 2950-V Topics in Applied Cryptography: Crypto for Social Good.
A recording of the keynote is available here.
For more information, click the link that follows to contact Brown CS Communication Outreach Specialist Jesse C. Polhemus.