Shriram Krishnamurthi Gives An Invited Talk At PWLConf (Recording Available)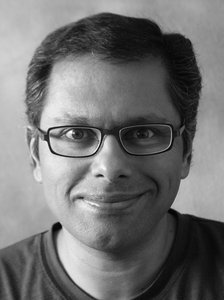 Click the link that follows for more news about Shriram Krishnamurthi and recent accomplishments by our faculty.
"I had the misfortune of having early success," says Professor Shriram Krishnamurthi of Brown CS. In a recent invited talk ("On the Expressive Power of Programming Languages") at Papers We Love Conference 2019, he shares some personal history with the audience, saying that academic achievement at the start of his career brought with it a profound experience of impostor syndrome.
During that identity crisis, he read a paper of the same title by Matthias Felleisen. "It was the most stunning paper I had ever read," Shriram says, "and remains so. It's like the poem that never leaves your soul." Explaining that his listeners will benefit from "cultural knowledge" of programming language theory, Shriram lifts them above the fray of linguistic claims and language wars to show how a fellow scientist's devotion to a clean approach, correspondence of formalism and intuition, and tautness of execution can be personally revelatory.  
"I hope to peel off some of those layers," he says, "and help you, too, understand the paper – hopefully while preserving the joy and beauty I experienced."
A recording of the talk is available here.
Shriram's other recent invited talks include a plenary talk at FCRC 2019 (recording here) and keynotes at École Polytechnique Fédérale de Lausanne's Teaching Computational Thinking Workshop (recording here) and Programming 2018.
For more information, click the link that follows to contact Brown CS Communication Outreach Specialist Jesse C. Polhemus.