Seny Kamara Provides Data Security Testimony To Congress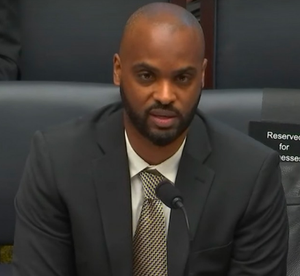 Click the links that follow for more news about Seny Kamara, our Socially Responsible Computing program, and other recent accomplishments by our faculty.
Last week, Professor Seny Kamara of Brown CS testified at a Congressional hearing ("Banking on Your Data: The Role of Big Data in Financial Services"), explaining that cryptography solutions to improve consumer financial health can be implemented without endangering privacy. Invited by the U.S. House Financial Services Committee Task Force on Financial Technology, Seny was part of a panel of data security and cryptography experts. 
At various times, Seny notes, the discussion expanded to a larger examination of equity and bias, reminding him of topics addressed in Brown's Socially Responsible Computing program and his own course (CS 2950-V Topics in Applied Cryptography: Crypto for Social Good), which examines how surveillance is used to suppress dissent and how cryptography can be used to protect marginalized groups. One example was when Representative Rashida Tlaib asked about the use of biometrics in low-income Detroit communities, and how it affects immigrants and people of color.
The rise of big data, Seny explained, has created a host of new financial products, but many of them pose serious privacy concerns because of the data they collect. For example, cash advance apps and micro-credit apps collect and use a variety of sensitive data including location data, text messages, Facebook friends and financial transactions. But since some of these apps are more often used by lower-income communities, they will be disproportionately affected by the loss of privacy.  "Cryptography researchers in academia and in industry labs," he said, "have developed a wide array of cryptographic techniques to process encrypted data." By leveraging those advances, he noted, they could improve the financial health of customers without sacrificing their privacy.
"I find it very significant," Seny tells us, "that I wasn't just sharing algorithms or code or commenting purely on technical issues but thinking seriously about the effects of technology. For our students, as future computer scientists, it's a real illustration of evaluating the impact that our work has on society. Even the act of testifying can be part of practicing responsible computer science."
You can read Seny's testimony here and a video of the proceedings here.
For more information, click the link that follows to contact Brown CS Communication Outreach Specialist Jesse C. Polhemus.