Suresh Venkatasubramanian Joins The AI Governance Center Advisory Board For The International Association Of Privacy Professionals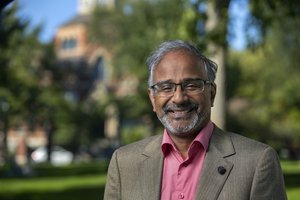 The International Association of Privacy Professionals (IAPP) is a comprehensive global information privacy community and resource, founded in 2000 with a mission to define, promote, and improve the privacy profession globally. Last week, their board of directors approved the creation of the AI Governance Center, which the IAPP will use to provide privacy and AI governance professionals with the resources, networking, training, and certification needed to respond to the complex risks in this field. Brown CS faculty member Suresh Venkatasubramanian, Director of the Center for Technological Responsibility and Deputy Director of the Data Science Initiative, will be part of its inaugural Advisory Board.
His fellow Advisory Board members, a broad array of leaders in AI governance and risk, include:
Alisa Bergman, Chief Privacy Officer, Fanatics.
Julie Brill, Chief Privacy Officer, Corporate Vice President, Global Privacy and Regulatory Affairs, Microsoft.
Seth Dobrin, President, Responsible AI Institute. 
Keith Enright, Chief Privacy Officer, Google.
Dennis Hirsch, Professor of Law and of Computer Science and Faculty Director of the Program on Data and Governance, The Ohio State University.
Cornelia Kutterer, Tech Policy Expert.
Naomi Lefkovitz, Senior Privacy Policy Advisor and Program Manager, Privacy Engineering, NIST.
Brenda Leong, Partner, BNH.AI.
Simon McDougall, Chief Compliance Officer, Zoom Info.
Brent Mittlestadt, Director of Research, Associate Professor and Senior Research Fellow, Oxford Internet Institute, University of Oxford.
Christina Montgomery, Chief Privacy & Trust Officer, IBM.
Dominique Shelton Leipzig, Partner, Cybersecurity & Data Privacy; Leader, Global Data Innovation & AdTech, Mayer Brown.
Frith Tweedie, Principal, Simply Privacy.
Eduardo Ustaran, Partner, Hogan Lovells.
Denise Wong, Assistant Chief Executive, Data Innovation and Protection Group, Singapore Infocomm Media Development Authority (IMDA).
Anna Zeiter, Chief Privacy Officer and Associate General Counsel for Privacy, Data & AI, eBay Inc.
"We know AI has the potential to create significant benefits across society," says IAPP President and CEO J. Trevor Hughes, "but also serious concerns. Collectively, we need to ensure this massively powerful technology with huge impacts is implemented safely and in a way we can trust. As privacy professionals, we can answer this call to action."
For more information, click the link that follows to contact Brown CS Communications Manager Jesse C. Polhemus.