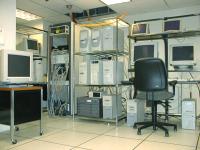 The department maintains a computing infrastructure that is separate from the rest of the University. Department computing systems support all of our administrative, research and educational needs. The technical staff administers these systems and provides support services to the computer science community.
Work safely! Learn about Repetitive Strain Injury and how to prevent or treat this painful condition.
Search the department wiki for tips and tricks that don't appear elsewhere in these pages.
Getting Started
Health and Safety
Help and Support
System Services
Teaching and Research
System Specs
Policies and Legal Issues
Network Services