How To Get Involved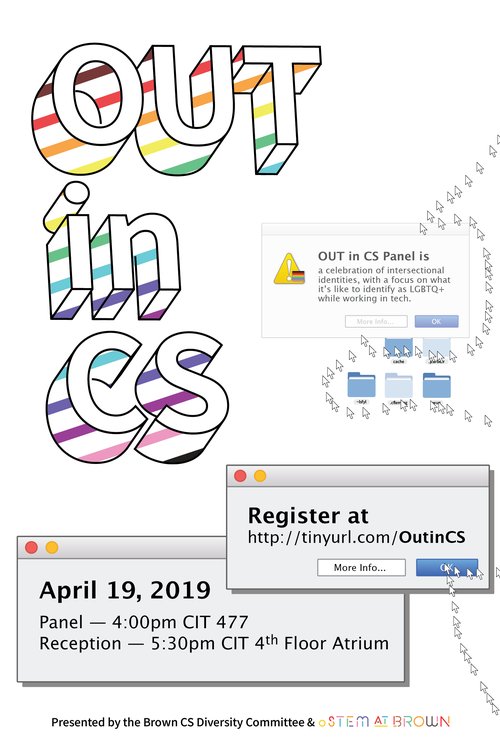 Diversity & Inclusion Town Hall: The Fall 2018 Town Hall was scheduled for Thursday November 29 from 4P-5P in CIT 3rd Floor Atrium.Click here to view the PowerPoint presentation for the Fall 2018 Town Hall.
2019-2020 Student Advocates for Diversity & Inclusion: Applications for the next cohort of Diversity Student Advocates are closed. Please check back next semester for updates.
CS Diversity Conferences: Check out this document for a list of diversity related CS conferences in 2018-2019. The CS Department offers scholarships for conference attendance; the 2018 CS scholarship application is now closed. The application for 2019 conferences will reopen in Spring 2019.
Brown CS Health & Wellness: Do you have feedback for how the department can help supoort accessibility and mental health? Please complete this anonymous department accessibility survey. 
CS Inclusivity Feedback Form: Whenever you notice a particular moment or experience in the CIT or the CS Community you view as making the environment more inclusive or exclusive, please complete this form. You have the option of submitting the form anonymously.
If You Need Help
Our Email:
Diversity & Inclusion Student Advocates: diversity.advocates@lists.cs.brown.edu 
Health & Wellness Student Advocates: wellness.advocates@lists.cs.brown.edu
Diversity Committee: diversity@lists.cs.brown.edu
Undergraduate Diversity Student Advocates Open Hours: instead of weekly scheduled office hours, community members that would like to confidentially discuss questions or concerns related to diversity and inclusion should email diversity.advocates@lists.cs.brown.edu or complete the form below. The open hours provide students with 1:1 peer mentorship and guidance on the student centers and resources available to them on campus.