Ernesto Zaldivar Was Named One Of USC's Best Election Cybersecurity Presenters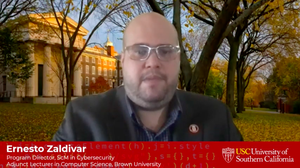 Click the link that follows for more news about Ernesto Zaldivar, Brown's Master of Science in Cybersecurity program, and other recent accomplishments by our faculty. 
University of Southern California (USC)'s Election Cybersecurity Initiative is a new, non-partisan, independent project, supported by Google, to help protect campaigns and elections by conducting cybersecurity workshops in all 50 states. Brown CS faculty member Ernesto Zaldivar, Deputy Director of Graduate Studies (Computer Science and Policy Tracks) for Brown's Master of Science in Cybersecurity program, gave a talk last August as part of their Rhode Island session. It was so well received that a month later, he was chosen to participate in a special pre-election program as one of the initiative's best presenters.
"I'm very happy that I was able to be a part of the USC Election Cybersecurity Initiative workshops," Ernesto tells us. "One of the many great opportunities the Initiative offers is the ability to share ideas with an audience of elections officials that can immediately utilize information gained from the workshops. The unique health safety measures necessitated by the pandemic elevated the importance of developing physical security protocols that support a strong cybersecurity posture."
Held on August 4, 2020, the Rhode Island workshop began with an overview and welcome by Adam Clayton Powell III, Executive Director of the USC Election Cybersecurity Initiative. Remarks from United States Senator Sheldon Whitehouse and Rhode Island Secretary of State Nellie M. Gorbea followed. Soon after, Ernesto gave his talk ("Human Factors in Election Security") and joined four other experts in a Thought Leadership Panel.  
Beginning with an explanation of Brown's approach to cybersecurity education and research, Ernesto took a chronological look at election security. Prior to Election Day, he recommended steps such as changing default passwords and setting aside time for security awareness training. During Election Day, Ernesto said, it's essential to watch social media to combat misinformation and monitor the physical security of voting machines; afterwards, personnel and volunteers should be asked about any abnormalities that they may have seen. 
Two months later, Ernesto joined fellow thought leaders as well as campaign and election officials from across the country for the grand finale program ("Election Cybersecurity: Lessons from USC Workshops with Leaders in all 50 States"). Hosted by Internet pioneer Vinton Cerf, it also included a talk by Maggie Toulouse Oliver, New Mexico Secretary of State and President of the National Association of Secretaries of State.
His talk, Ernesto explains, anticipates his new Brown CS course, CSCI 1360 Human Factors in Cybersecurity, which will launch this fall in conjunction with the new Master of Science in Cybersecurity program. "As part of their coursework," he says, "students will be creating and refining election security threat models throughout the semester. The goal is to give them the intellectual and scientific framework they need to create systems that are both secure and efficient to use. I'm thrilled that I have the opportunity to teach this course, and I'm looking forward to their insights into keeping elections safe."
A video of Ernesto's initial talk is available here and a video of the grand finale program is available here.
For more information, click the link that follows to contact Brown CS Communication Outreach Specialist Jesse C. Polhemus.