Andy van Dam Has Been Named A Computer History Museum Fellow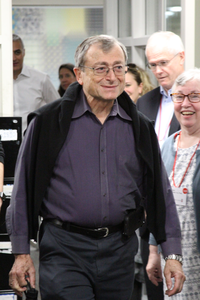 Click the links that follow for more news about Andy van Dam or other recent accomplishments by Brown CS faculty.
2021 brings a new honor for Brown CS Professor Andries "Andy" van Dam, who has just been named a Fellow of the Computer History Museum (CHM) for a lifetime of contributions to computer graphics, hypertext, and computer science education. Located in Mountain View, California, CHM presents stories and artifacts of the information age and explores the computing revolution and its impact on society.
"In his five-decade career," the Computer History Museum writes of Andy, "he has taught over ten thousand students in his programming and computer graphics courses, based in part on his coauthored 1982 textbook, Fundamentals of Interactive Computer Graphics, which, along with its successors,  became a standard reference in the field. Many of van Dam's students have gone on to make major contributions to computer graphics and its uses in areas as diverse as scientific visualization and entertainment, hyper/multimedia, and the online world." 
Andy's co-awardees include Ray Ozzie (creator of Lotus Notes), Raj Reddy (founder of the Robotics Institute at Carnegie Mellon University), and Lillian F. Schwartz (Emmy-winning computer artist). As the year continues, CHM intends to celebrate Andy and this year's other Fellows with an all-new immersive virtual experience that will spark important conversations, invite new perspectives, and inspire innovative ideas about how technology can shape a better future.
Now in his ninth decade, Andy continues his commitment to teaching, research, and socially responsible computing. Most recently, he delivered a keynote at the 30th ACM Hypertext Conference, won the inaugural ACM SIGGRAPH Distinguished Educator Award, and was named to the SIGGRAPH Academy for contributions to computer graphics.
For more information, click the link that follows to contact Brown CS Communication Outreach Specialist Jesse C. Polhemus.