Einblick, Spawned From Brown/MIT Research, Debuts With A New Visual Data Computing Platform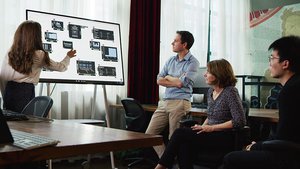 Click the links that follow for more news about Tim Kraska, Eli Upfal, and other recent accomplishments by our faculty, students, and alums.
Last week, the product of more than a half-decade of research by Brown University and MIT came to light. Einblick, which has secured $6 million in seed funding from investors, is offering a visual data computing platform that fundamentally changes how users interact with data by rapidly allowing them to understand the past, predict the future, and make the best data-driven decisions for their business. 
Tim Kraska (Associate Professor at MIT and Adjunct Associate Professor at Brown, formerly Assistant Professor at Brown) is the organization's Co-Founder and CEO and Professor Eli Upfal of Brown CS is a Co-Founder. Its other Co-Founders (Benedetto Burratti, Philipp Eichmann, Zeyuan Shang, and Emanuel Zgraggen) are all Brown CS alums or former students. More than a dozen Brown CS faculty members, students, and alums contributed to the research behind Einblick, which was published in various top-tier systems, machine-learning, and human-computer interaction conferences and journals.
To learn more about Einblick, read Wednesday's press release or a recent blog post ("The third wave of analytics and why Einblick is leading the way") by Tim.
Brown CS regularly publishes news articles about our pioneering and innovative faculty, students, and alums. We have no financial involvement in any of the companies mentioned above and have not been compensated in any way for this story.
For more information, click the link that follows to contact Brown CS Communication Outreach Specialist Jesse C. Polhemus.