Cetintemel, Istrail, Singh, And Collaborators Receive COVID-19 Research Seed Fund Grants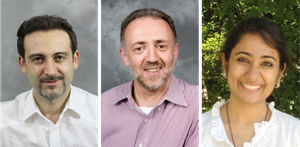 Click the links that follow for more news about COVID-19, Ugur Cetintemel, Sorin Istrail, Ritambhara Singh, and other recent accomplishments by our faculty.
Brown University has just announced the award of $350,000 in a new COVID-19 Research Seed Fund, and three Brown CS faculty members are among the recipients. Brown established the fund to fast track innovative research proposals that directly address the urgent needs of the COVID-19 pandemic. The grants focus on projects that best support research with potential significant, rapid impact on human health and create products of immediate need for the health care system in Rhode Island and the nation.
Along with the project lead, Dr. Harrison Bai (Diagnostic Imaging), Brown CS Professor and Department Chair Ugur Cetintemel and Professor Ritambhara Singh of Brown CS and Brown's Center for Computational Molecular Biology are the investigators of a grant for research that will develop an AI platform to differentiate COVID-19 from other viral pneumonia on chest CT, and use the information to identify early-stage patients who are likely to transition to severe disease.
Brown CS Professor Sorin Istrail is Co-PI of a grant led by Primary Investigator Elizabeth Chen of the Brown Center for Biomedical Informatics that will establish an inter-institutional informatics infrastructure to support COVID-19 research in Rhode Island through electronic health data, digital health technology, and data science techniques. The other CO-PIs are Philip Chan (Medicine), A. Rani Elwy (Psychiatry and Human Behavior), Fizza Gillani (Medicine), Joseph W. Hogan (Biostatistics), and Indra Neil Sarkar (Brown Center for Biomedical Informatics and Rhode Island Quality Institute). 
A full list of recipients is here and a News from Brown story about the grants is here.
For more information, click the link that follows to contact Brown CS Communication Outreach Specialist Jesse C. Polhemus.