Don Stanford Wins Brown's Hazeltine Mentoring In Entrepreneurship Award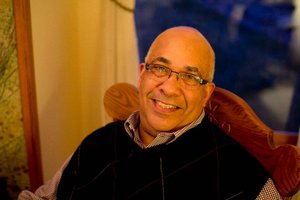 Click the links that follow for more news about Don Stanford and other recent accomplishments by our faculty.
Professor Donald Stanford '72 ScM '77 of Brown CS has just been recognized for his dedication to student mentoring, particularly with aspiring entrepreneurs, with the Hazeltine Mentoring in Entrepreneurship Award. Founded by a group of alums, it honors Professor Barrett Hazeltine, who has been mentoring and inspiring Brown University students for decades.
"Don was one of the first people in my career to take me under his wings and show faith in me," remembers Adi Dhandania, now Vice-President of Strategy and Corporate Development at Twin River Worldwide Holdings and currently an Executive Master's student in EMSTL. "Going back 10+ years ago, I still remember the joy and excitement I would get from listening to the engaging stories that Don would share at intern lunches. His enthusiasm and commitment to teach and develop young professionals is unparalleled. His mentorship goes far beyond entrepreneurs and has made a significant difference for students as well as early-career, mid-career, and late-career professionals. His support of me has been invaluable to both my personal and professional growth, and I will always be grateful for that."
Jack Roswell, co-founder of Cloud Agronomics and another of Don's mentees, feels similarly: "Don is revered by many due to his technical expertise, kind heart, and keen eye for talent. My first encounter with Don was nothing short of serendipitous, and put simply, I wouldn't be where I am today if he had not taken me under his wing."
In addition to teaching and mentoring students for decades, Don is a founding member of GTECH (now IGT Global)  and began working for the start-up company in 1979 as Manager of Software Development when it had less than 10 employees. Over 40 years, he has held every technical leadership position in the organization, including Vice President of Advanced Development, Chief Technology Officer, and Chief Innovation Officer. Don guided the growth of GTECH's technology organization from a software staff of four to its current worldwide deployment of over 1,200 technology professionals. Under his leadership, GTECH advanced the state of the art in transaction processing, secure retail systems, and wireless communications, enabling it to lead the Gaming industry worldwide and install systems in over 80 jurisdictions on six continents. Don serves on several boards, including YearUp Rhode Island, Spectra Systems, and the Business Innovation Factory. He is also a past member of the Rhode Island Science and Technology Advisory Council and a co-founder of Times2 STEM Academy, Rhode Island's very first K-12 charter school.
In 2001, Don was appointed Adjunct Professor of the Practice in Computer Science at Brown, and he's been teaching undergraduates since 2002. He's also an Adjunct Professor in the School of Engineering and in the School of Professional Studies, where he teaches Science and Technology Leadership. In the past he has served on the Brown advisory councils to the President and the School of Engineering. In 1999, Don received the Black Engineer of the Year Award for Professional Achievement and the Honorable Thurgood Marshall Award for community service from the NAACP. In 2002, he received the Brown Graduate School's Distinguished Graduate Award and the Rhode Island Professional Engineer's Award for Community Service.  
"I am truly honored," Don tells us, "to be mentioned in the same breath as the legendary Barrett Hazeltine. I have known Barrett since I was a freshman student at Brown in 1968 and have followed his meteoric success in fostering entrepreneurship studies and activities at Brown over the past decades. On many occasions I have been contacted by a Brown student whose first words were, 'Barrett Hazeltine sent me.' For me, it is a gift to be able to interact with students in developing their vision for ideas that have potential impact on our society. It is a great time to be at Brown and I am grateful for the opportunity in my retirement to participate in the overall effort and ecosystem that makes Brown such a special place. Being able to teach and work at Brown allows me to return to school and learn something new every day from colleagues and students. The slogan 'Ever True to Brown' are words that I take to heart."
This year's other award winner is Professor Jennifer Nazareno of the School of Public Health and the Nelson Center for Entrepreneurship. Don and Jennifer will receive their awards in a virtual ceremony on Thursday, April 30, at 4 PM. If you're interested in attending, please RSVP here, and a Zoom link will be sent to you.
For more information, click the link that follows to contact Brown CS Communication Outreach Specialist Jesse C. Polhemus.