Alum Adventures: Meredith Ringel Morris And Eric Horvitz Win The UIST Lasting Impact Award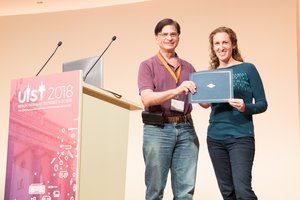 Click the links that follow for more news items about our innovative and pioneering alums
"We live in an era of fake news," explains Brown CS  alum Meredith Ringel Morris '01, "and there's this huge idea of trustworthiness when searching for information, and my research focuses on this process of search." Currently working as a researcher at Microsoft, Merrie works on a broad spectrum of projects including human-computer interaction, computer-supported cooperative work, social computing, and accessibility. Investigating with fellow researcher Eric Horvitz, the pair's work on SearchTogether (an interface for collaborative web search) has recently won the ACM UIST  (User Interface Software and Technology) Lasting Impact award, recognizing the significance of their work in this field.
Merrie's aptitude for discovery began very early on, during her undergraduate years at Brown. She completed an independent study under the guidance of Brown CS Professors Steve Reiss and David Laidlaw on visualizing the runtime of Java programs to help people find bugs. "It wasn't anything major," she laughs, "but it really sparked my interest in research." This passion grew, when she found herself at Stanford working in the lab of Professor Terry Winograd on interactive workspaces.
Her work on interactive workspaces continued after graduating from Brown as Merrie completed her PhD program at Stanford and focused on gesture interaction techniques – supporting groups of people working on displays. Merrie began working at Microsoft Research in 2006, helping the company's continuous search for innovation. But her work quickly deviated from that of years past. "When I first joined, Eric had expected that I would do more work on gestures," Merrie remembers, "but I really started to think about search and how inefficient it is." This led Merrie to SearchTogether, a project that has redefined the way that people collaborate and has a range of applications.
Previously, searching and querying had been a primarily isolated and individual activity. SearchTogether changed that by focusing on the specific scenario of remote collaboration when stakeholders are not physically present. Essentially by supporting awareness of search processes when others are separated, it allows for groups to query and search through information simultaneously, dramatically reducing undesired redundancies and improving work efficiency. Featuring new ideas such as search result persistence and "split search" (allowing one person to issue a query and multiple people to triage unique subsets of the search results), the system dramatically improves the division of labor in the workspace with countless applications.
What makes this work so important? Well, not only does it provide a competitive edge for Microsoft's own search services, it really taps into the potential of collaborative information seeking and sharing. This potential is highlighted by the UIST Lasting Impact Award, which honors a UIST paper from at least ten years earlier with long-lasting impact on the UIST community and beyond. "Microsoft research tends to focus on a portfolio of long-term research, and sometimes they come up with ideas so far out of the box that they seem so futuristic at the time," Eric explains, "and the Lasting Impact Award is one of the best affirmations you can get for your research, since it means that a segment of researchers believes the topic is meaningful, and it serves as an affirmation of a crazy idea."
Looking back at her four years at Brown, what was most valuable? For Merrie, it was truly the abundance of opportunities for undergrads. "Being a TA in Brown's undergrad TA program was amazing," she says , "and it taught me to be an effective public speaker, helped my communications skills, and was just a great experience."
In the photo above, Merrie is being given her award by Brown CS PhD Alum Steven K. Feiner, Professor of Computer Science at Columbia University. 
For more information, click the link that follows to contact Brown CS Communications Outreach Specialist Jesse Polhemus.