Brown CS Student Alexander Rothberg And Fellow Student Entrepreneurs Harness Data To Improve Health Care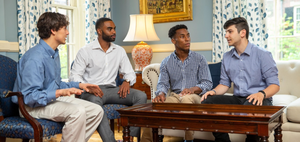 by Corrie Pikul (Senior Writer, Life Sciences)
Today's health care providers are never at a loss for patient data. The challenge, they say, is efficiently spotting what they need to know amid reams of inconclusive numbers.
For example: Managers at one provider in the federal Program of All-Inclusive Care for the Elderly system, which provides medical care and social services to older adults, easily track key metrics like hospitalization rates by quarter. However, that statistic couldn't explain why an uncharacteristically high number of members entered the hospital in the last quarter of 2020. Without context, the explanations were practically limitless, but because of the vulnerable population served — Medicare and Medicaid patients — the stakes were  high.
Fortunately, the provider had recently partnered with a startup called Intus Care, founded by four Brown University undergraduates who are using data to improve health care for the elderly. The team showed this client, one of their first, how to use their proprietary platform to discover that the hospitalizations were correlated with infections. Then they drilled down even further to reveal that the problematic infections were mostly of the urinary tract and groin.  
Making those connections was crucial, said Robbie Felton, Intus Care CEO and a Brown senior concentrating in public health, because those types of infections are not only preventable but can often be avoided through proactive care measures at home.
"We felt really good about our role in this," Felton said. "We were able to help them identify patients at risk, which allowed the care provider to put in place the measures to keep those people healthy and out of the hospital."
Intus Care, an analytics platform that synthesizes health care data to identify risks, visualize trends and optimize care, was born and nurtured at Brown. That's where the four student founders, each with different interests and skills, met and connected. It's where they shaped, tested and refined their ideas with the support of Brown faculty and other members of the University community. And through the Nelson Center for Entrepreneurship, it's where they turned their ideas and plans into a bona fide business.
Brown encourages students to think about things holistically, and my religious studies professors have reiterated that for me and helped me develop how I think about the world and its problems.
As the students prepare to launch into the next phases of their lives — both Felton and Evan Jackson, Intus Care's chief operating officer, are finishing their Brown degree requirements this month and celebrating Midyear Completion as .5ers — their startup is taking off.
Young minds focused on the vulnerabilities of older people
The founders of Intus Care, who are all young and healthy, don't have much in common with the vulnerable elderly adults who will benefit most from their company's service — and they're used to fielding questions about the origins of their interest.
"We get this question all the time: Why are you kids so passionate about the geriatric care space?" Felton said good-naturedly.
For Felton, the spark that became Intus Care began when he was a child. His mother, then a geriatric social worker, would bring him with her to visit elderly and disabled clients, and getting to know elderly people in his community had a tremendous impact on him.
Over time, his mother, Sonja, became the executive director of a PACE program, which provided care to elderly, Medicare-eligible people in the community. Sonja eventually joined the board of the National PACE Association, a role that involved decision-making on industry governance and policy.
That's what she was doing when Felton started at Brown. On campus, his interest in public health got him thinking about how the lessons he was learning from faculty like Dr. Ira Wilson, a professor of health services, policy and practice, intersected with the care decisions his mother was making on behalf of patients.
During school breaks, Felton would go home to Michigan and talk to his mother about her work. Through conversations with his mother and other PACE providers about the challenges of their roles, he noticed something: The providers had plenty of data, but it wasn't delivered to them in a usable format. 
"There was a major disconnect between the data that was out there and the care being provided to patients," Felton said.
His entrepreneurial senses started tingling: "This is an area of health care primed for transformation," he thought. He knew just who to talk to: Evan Jackson, a Brown senior concentrating in economics and religious studies, who was equally passionate about entrepreneurship.
Felton knew Jackson from the Brown football team. They'd already collaborated on another venture: an idea to convert algae into biofuel that they entered in a Hult Prize competition at Brown in 2018. Felton and Jackson were excited to collaborate on a project that involved data and health care — something that could potentially help people who needed it.
They connected with Samuel Prado ("One of the smartest people I knew at Brown," Jackson said), who was studying public health and economics and who had a connection to the geriatric space, as well: His parents worked as clinicians at an AIDS clinic with a community family health center, and Prado used to volunteer in a nursing home.
The trio workshopped Intus Care during Summer 2019 as part of the Breakthrough Lab accelerator program run by the Nelson Center for Entrepreneurship. When classes resumed, they met Alexander Rothberg, who was concentrating in computer science, who joined them to lead the technology side of the business and create the first digital product.
"It was all starting to come together," Jackson said. "We had the health care piece, the business piece and now the tech piece."
One puzzle piece was left, and it was shaped like a dollar sign.
From idea to industry
In Fall 2019, the team earned a place as a finalist in the MassChallenge startup accelerator program and received $50,000 in seed money. It was a pivotal investment, Jackson said.
They also teamed up with Dr. Megan Ranney, an emergency physician, Brown professor academic leader and digital health expert, on an independent study. Over the course of a year, Ranney provided feedback on the research aspects of their work, linked them with local and national experts and provided a physician's view on other services in the same space. While there are companies working to make accessible the overwhelming amount of information from sources as disparate as electronic health records, medical imaging, genomic sequencing, pharmaceutical research, medical devices and more, Ranney talked to the students about how it's rarely presented to clinicians in a useful form.
With additional long-distance advising from engineering and entrepreneurship professors Barrett Hazeltine and Thano Chaltas, Felton, Jackson and Prado moved temporarily to Ann Arbor, Michigan, to shadow Sonja Felton at Huron Valley PACE, looking for a firsthand view as part of their independent study. They put in long work weeks at the geriatric care facilities, getting to know everyone from patients to providers to administrators.
"We realized we needed to go learn what geriatric care providers need as well as how we could help them," Jackson said.
A good way to think about a PACE program, Jackson said, is as a daytime care center for older adults — patients are able to live in their own homes and are transported daily to the center, where care providers coordinate all of the services required, from medical to social.
What's special about PACE is that the providers can make use of any tool in their arsenal to improve care outcomes for older adults, Jackson said.
"Leveraging data becomes so important," he said. "If the caregiver notices a red flag, they have the tools and the ability to do something — like make an appointment, address an issue — that could reverse the trend and keep the patient out of the hospital."
Through conversations with Ranney, the students thought about ways to bring their ideas to life digitally. They collaborated closely with Rothberg, who remained in Providence and took Brown courses that would turn out to be highly influential in the final design of the product — including data science, taught by Ellie Pavlick, and machine learning, taught by Stephen Bach, both assistant professors of computer science. Daniel Ritchie's classes on deep learning, and advice and guidance from Stefanie Tellex, an assistant professor of computer science, proved equally impactful.
As he studied in Providence, Rothberg simultaneously convened and started to lead a team of student developers. The dedication paid off: In Spring 2020, Intus Care won $25,000 by capturing the Nelson Center's Brown Venture Prize, and raised $600,000 as part of their first round of funding.
Scaling up and branching out
The team synced up with PACE of Rhode Island, first to learn and then to collaborate as business partners. They shared their insights and research from working with PACE in Michigan, and then translated what they learned into a digital platform.
"It's really hard to get that first customer, to get someone to make the leap and work with you when no one else has," Prado noted. "We went to PACE of Rhode Island and said, 'We have this product, we'd love to work with you, is there anything you need that you don't have right now?' And fortunately, there was — they knew they needed data analytics but didn't have an easy way to get them. So we were able to fill that need."
By Fall 2020, Intus Care had 300 Rhode Island PACE patients entered into their system; a year later, in Fall 2021, they had enrolled thousands of patients from PACE organizations in seven states. They've also brought on additional advisors, including Patty Riskind, a Brown alumna with a 30-year track record of using technology, data and analytics to improve health care organizations. To date, the students have raised $2.3 million across two fundraising rounds. And just this fall, Intus Care formalized a partnership with Medline, one of the nation's largest privately owned healthcare companies..
"One of the things I appreciate about Intus Care is that they take the needs of patients and providers into consideration," said Ranney, who continues to advise the team. "Because of the time the students spent interviewing care providers, their data system's solutions are more likely to be things that people can actually use."
Jackson said he feels immensely gratified by the stories of providers telling him that the Intus Care platform allows a provider to identify a high-risk patient and reassess their care plan, or even proactively stage an intervention. While the core of what they do remains the same — risk analytics to predict adverse health events — the way they think about the product and how to provide it changes every day, Jackson said.
Likewise, the students themselves are constantly assessing their career plans and goals.
For example, Prado came to Brown with an idea that he'd like to eventually become a medical provider, like his parents. "But as I took more of the relevant courses, I started asking whether I'd prefer to be on the side of enabling providers, managing how organizations work and making them more efficient," he said. "I'm now thinking I want to change the system rather than work within it." As the company's chief product officer, Prado directs clinical research and development.
Rothberg, too, has shifted his post-graduation plans. He came to Brown to study chemical engineering but discovered that computer science "was just absolutely the right fit for me." The transition was seamless, painless — and essentially paperless.
"I didn't have to jump through any hurdles or fill out tons of paperwork," said Rothberg. "Brown lets you say yes to things." Rothberg, who is on track to graduate in May 2022, says he can't see himself doing anything that doesn't involve data. 
Jackson, who members of the team call "the king of outreach," is thriving in the entrepreneurship space.
"Brown encourages students to think about things holistically, and my religious studies professors, especially Jason Protass and Nancy Khalek, have reiterated that for me and helped me develop how I think about the world and its problems," he said.
Jackson is currently focused on Intus Care operations, but he said he can see the lessons learned from the Intus Care development experience being applied to other social entrepreneurship initiatives in the future.
Felton came to Brown with the goal of working in geriatrics. That hasn't changed.
"I'm passionate about improving care delivery, access, coordination," he said. "I'm passionate about improving the care of elderly people." Medical school is still part of Felton's long-term plan — "after we've made the impact that we need to make with Intus Care."
Photo by Nick Dentamaro/Brown University. Additional reporting by Jessica Tabak.