Learnable.ai, Cofounded By Brown CS Alum Guan Wang, Is Named A World Economic Forum Technology Pioneer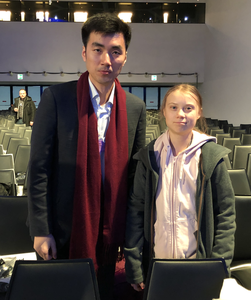 Click the links that follow for other news about Guan Wang and other recent accomplishments by Brown CS alums.
Learnable.ai, co-founded by Brown CS alum Guan "Royal" Wang, is a human-centered artificial intelligence (AI) company. Originating from the Harvard Innovation Lab, it provides fully-automated grading AI for K-12 subjects, application programming interfaces for optical character recognition, AI-driven financial products, and other personalized services. Last month, it was named a Technology Pioneer by the World Economic Forum, one of the most competitive business awards for startups. Every year, the independent international organization selects only 100 fast-growing companies with groundbreaking innovations from around the world: Airbnb, Google, and Twitter were all winners in the early stages of their development.
Royal cites his company's K-12 AI grader and tutor as a perfect example of Learnable.ai's solutions at work. "In both academia and industry," he tells us, "building a machine tutor that can understand a student's messy handwritten content, determine correct answers and incorrect ones, and provide tutoring feedback in K-12 subjects like math and science has been considered a 'mission impossible' for decades. Through cutting-edge machine learning technology, we achieved breakthroughs for each step of the process, including handwriting recognition, understanding of natural language key learning concepts, and step-by-step grading analysis. Currently, our auto-grading products are being used by several well-known educational institutions, and in 2021, for the very first time in the history of both AI and education, our AI grader was successfully trialled in Asia as part of a country's annual college entrance exam process."
For the past three years, Royal has also been invited to the Davos Forum, the World Economic Forum's annual meeting, as a representative of the Artificial Intelligence community. Last year, he gave talks about his company's research and how it can change people's daily lives. In the photo above, he appears at the Davos Forum with environmental activist Greta Thunberg.
Looking ahead, Royal explains that Learnable is currently expanding its team to allow for even faster growth. "The demand for our automatic AI solutions has gotten even bigger during the pandemic," he says.
A full list of the awardees is available here.
For more information, click the link that follows to contact Brown CS Communication Outreach Specialist Jesse C. Polhemus.