Alum Entrepreneurs: Geneviève Patterson Brings AI-Powered Video Editing To Millions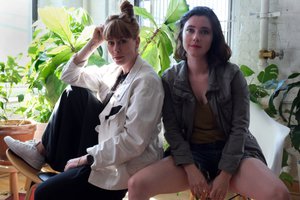 Click the links that follow for more news about Geneviève Patterson, recent accomplishments by our alums, and their diverse career paths.
Geneviève Patterson is wasting no time. Four years after earning her doctorate from Brown CS, she's sold her video editing app company (Trash, co-founded with Hannah Donovan) to photo and video editing app VSCO, a move that will put her creation into the hands of millions worldwide. Her advice to current Brown students interested in entrepreneurship is simple: "Intern at an early-stage startup (less than 10 employees). This will show you if this type of life is what you want to do. That's how I first got a feeling for what kind of startup I wanted to make."
Geneviève received her PhD in 2016 under the direction of James Hays (now at Georgia Institute of Technology and Argo AI) for work on crowd-driven image understanding. She tells us that some of the first classes she took at Brown CS were the most enjoyable and the most useful: "I loved my early courses in computational photography, optimization, and databases, all of which I used at my startup! The academic community at Brown was a wonderful incubator for me as well."
After earning her doctorate, Geneviève first joined Microsoft Research New England as a Postdoctoral Researcher, then co-founded Trash in 2018 with a mission of enabling everyone to easily share their personal story in video form, regardless of skill. Put simply, Trash uses artificial intelligence to analyze a user's video clips, find the shots with highest visual interest, and then seamlessly combine them into a single video. Users can then perform various edits to the video, including changing its sequence, applying filters, altering its speed, or varying its background music. 
Just last week, Trash was acquired by VSCO, a photo and video editing app with a base of 100 million users and more than two million paid subscribers. Trash's technology will be available to VSCO subscribers first in the form of support for multi-clip video editing, with other features to follow. For example, users may someday be able to save a collections of video edits as "recipes" for future use, similar to an existing VSCO feature for photos.
Newly appointed as VSCO's Head of Product Research, Geneviève doesn't see a doctorate as a strange choice for someone who was interested in entrepreneurship. "To get a PhD," she says, "you learn how to become a world-class expert in just a few years. At my startup, I had to do a half a dozen different engineering, management, PR, and fundraising jobs I was completely unprepared for. My PhD training made me confident in that situation and able to rise to the challenge. Succeeding at a startup is often possible because of the friends and support community you have as well. The people I connected with during grad school turned out to be incredibly valuable."
Brown CS regularly publishes news articles about our pioneering and innovative alums. We have no financial involvement in any of the companies mentioned above and have not been compensated in any way for this story.
For more information, click the link that follows to contact Brown CS Communication Outreach Specialist Jesse C. Polhemus.