Brown CS Alum Mneera Abdullah Saud Is A 2021 Rhodes Scholar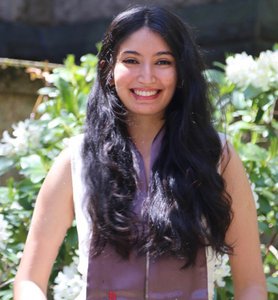 Click the links that follow for more news about Socially Responsible Computing, our Rhodes Scholars, and recent accomplishments by our alums.
"I owe this opportunity to my professors, friends, and mentors: I'm incredibly grateful that I've had the privilege of learning from them while at Brown, and I know this would not have been at all possible without them," says Brown CS alum Mneera Abdullah Saud. She's just joined the Rhodes Scholars Class of 2021 and plans to pursue two Master's degrees at Oxford: one in refugee and forced migration studies, and the other in the social science of the Internet. "I'm really excited about the two programs. I want to do the MSc in the Social Science of the Internet in particular to historicize and highlight how central the digital activism of Saudi women has been to the recent reforms in the country."
The Rhodes Scholarship is the oldest and perhaps the most prestigious international scholarship in the world, and it covers all expenses for two or three years of graduate study at the University of Oxford in England. Mneera, a native of Bahrain and Saudi Arabia, was chosen as one of just three scholars from the region. It's the third consecutive year that a Brown alum has been among the recipients.
"Brown has taught me the value of an interdisciplinary approach, which is more important today than ever in addressing global challenges," she says. "An understanding of forced migration will also entail an understanding of the disinformation on Facebook that could incite ethnic violence, and I want to use the multidisciplinary foundation Brown gave me to counter efforts towards the exclusion of marginalized communities as they materialize anywhere -- even on the web."
Mneera is the second Brown CS recipient of a Rhodes Scholarship, following Nabeel Gillani in 2011. 
For more information, click the link that follows to contact Brown CS Communication Outreach Specialist Jesse C. Polhemus.