Brown CS Holds Our 5th Annual Research Open House (Recording Available)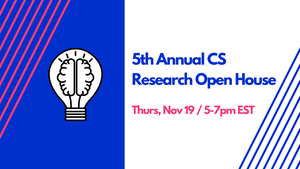 Click the links that follow for more news about our CS Research Open House and other recent accomplishments by our students.
Held virtually this year due to the COVID-19 pandemic, Brown CS welcomed students to our fifth annual CS Research Open House last week. Hosted by the Meta-Undergraduate Research Assistants (MURAs), it offered students an opportunity to learn about research in the department, no matter their year, concentration, or classes they're enrolled in. This year, more than 150 students attended!
You can watch brief introductions from each research group here.
For more information about the Brown CS undergraduate research program, see this page.
For more information, click the link that follows to contact Brown CS Communication Outreach Specialist Jesse C. Polhemus.