Brown CS Alum's Charity Gives K-12 Teachers A Second Monitor To Help During COVID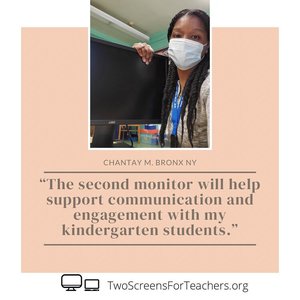 Click the links that follow for more news about COVID-19, our pioneering alums, outreach to schools in the Providence area, and socially responsible computing.
In the middle of a pandemic, some Brown CS alums found a new opportunity to give back. 
Inspired by a neighbor who bought a second monitor to help his mother teach her elementary school students remotely during the COVID-19 pandemic, alum Matt Lerner founded Two Screens for Teachers just two months ago. The nonprofit aims to make an immediate impact on the quality of learning during the current online teaching crisis by providing teachers with a second monitor. (Studies indicate that the additional equipment, which can allow teachers to see students on one screen and lesson plans on the other, can improve productivity by 20-30 percent.) His collaborators include two other Brown CS alums, Jesse Kocher and Dave Peck.
Their goal is to distribute 250,000 second monitors to teachers nationwide by the end of 2020, and they recently purchased monitors for all Seattle Public School teachers after raising more than $2M in funding. They're turning their attention now to Brown University's home: the city of Providence, Rhode Island.
Two Screens for Teachers is asking Brown CS alums and anyone else to help provide second monitors for all Providence Public School teachers. You can reach out directly to Matt at matt@twoscreensforteachers.org to donate. 
"There are 3.2 million K-12 public school teachers in the United States," Matt tells us, "and America risks losing a year of educational progress across an entire generation. We need to transform teaching to get our kids through this educational crisis, and we really appreciate your help."
For more information, click the link that follows to contact Brown CS Communication Outreach Specialist Jesse C. Polhemus.