Brown CS PhD Student Brandon J. Woodard Wins The NASA RI Space Grant Fellowship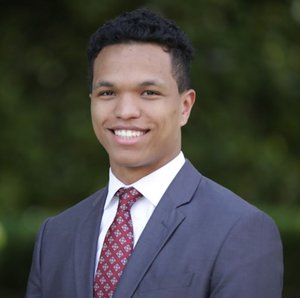 Click the link that follows for other news stories about recent accomplishments by our students.
Brandon J. Woodard, a Brown CS doctoral student advised by Professor David H. Laidlaw, has just won the NASA RI Space Grant Fellowship for 2020-2021, which provides stipend support for young researchers working toward their Master's or PhD degrees in a NASA-related field of study. Given by the NASA Rhode Island Space Grant Consortium, it will fund his research involving novel methods of modeling data of Earth's forests collected with the Global Ecosystem Dynamics Investigation LiDAR (GEDI), a remote sensing instrument aboard the International Space Station (ISS). It's the first step, Brandon says, of a multi-year plan of working on CS research that supports NASA's strategic goals. 
"Space exploration and planetary sciences have been lifelong interests," Brandon tells us, "and my curiosity was especially fostered after multiple field trips to NASA's Jet Propulsion Laboratory (JPL) in grade school. As I toured JPL's campus I was very interested and intrigued by the amazing projects, like the Mars exploration rovers and Cassini. I learned that at the core of each of these missions, computers and computer science research were imperative to the mission's success. When I finally got the opportunity to intern at JPL, I realized how critical data is to NASA and learned that the majority of decisions and inferences made are through the interpretation of scientific data. In order to interpret data correctly, researchers need to be able to visualize and intuitively understand the information accurately – otherwise, a lot can go wrong. I gradually developed a fascination for visualizing data and decided to research scientific visualization." 
In his research, Brandon and his advisor propose to develop inferential models that will improve LiDAR-derived estimates of forest structure. Their research will increase the utility of the Global Ecosystem Dynamics Investigation (GEDI) instrument aboard the International Space Station and other large-footprint (large LiDAR beam; common for space-borne devices) LiDAR instruments through better data modeling. Capturing the underlying geometry and biology by utilizing GEDI LiDAR data that is unused in current methods of forest structure estimation will make this possible. Their research will provide ecologists with a better understanding of important carbon processes, biodiversity, and habitat of forests. The resulting research will positively impact NASA's efforts in remote sensing and ecology for overall terrestrial health.
"My hope," Brandon tells us, "is that developing better methods to model Earth surveying data will provide scientists with a better understanding of Earth as a system, in particular the carbon processes, biodiversity, and habitats of forests."
To learn more about the fellowship, click here.
For more information, click the link that follows to contact Brown CS Communication Outreach Specialist Jesse C. Polhemus.