Seny Kamara And Collaborators Win A Grant For Responsible CS Education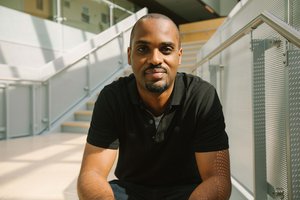 by Ajula Van Ness-Otunnu
Click the links that follow for more news about our Socially Responsible Computing program and Seny Kamara.
On April 30, 2019, Brown CS Professor Seny Kamara was announced as a winner of The Responsible Computer Science Challenge from Omidyar Network, Mozilla, Schmidt Futures, and Craig Newmark Philanthropies. Seny worked in collaboration with colleagues Suresh Venkatasubramanian (University of Utah) and Sorelle A. Friedler (Haverford College) to "integrate ethics and responsibility into undergraduate computer science curricula and pedagogy at U.S. colleges and universities" according to Mozilla.
The Omidyar Network, Mozilla, Schmidt Futures, and Craig Newmark Philanthropies give this award to acknowledge the power computer scientists hold in society. This power comes with the responsibility to integrate ethics into the education of prospective computer scientists. "I think it is clear to everyone now that CS is having a major impact on individuals and societies. This impact, however, is not always positive," Seny explains, "and we need computer scientists to understand this and to strive to design and build better technologies for everyone. We need to teach our students more than how to design fast algorithms and how to build profitable companies."
Seny and his colleagues were inspired to apply for this award due to their experience and understanding of the current limits of CS curricula. "All three of us had been thinking individually about the fact that the traditional CS curriculum really needed to be expanded to include the ethics and social responsibility of CS," he explains. Seny is well-versed in privacy and surveillance while his colleagues, Suresh and Sorelle, have experience with algorithmic fairness which has informed their awareness of technology's potential to harmfully impact society. These experiences made the decision to apply for the challenge simple. The process of writing their proposal was challenging yet enjoyable for all three since they had the opportunity to discuss various socially impactful topics.
Recognizing that CS students are first introduced to problem solving methods when evaluating their solutions and must keep in mind the resources they have available to them, Seny and his colleagues plan to use the funds from the prize to normalize curriculum design. This provides students with a strong technical foundation to actively integrate questions about how marginalized groups in different communities are impacted by technology. This curriculum aims to condition students to think about the inequality in global society as a natural part of their studies in CS. He believes the performance motivated culture of CS education results in a lack of ethical designs.
Seny and his colleagues plan to approach this issue by equipping students with a direct knowledge of the impact the tech field has on society. By integrating questions involving issues in society into the data structures and algorithms curriculum, students begin their CS education with a foundation that allows them to ethically problem solve. This sets the stage for a more ethically based CS community in education at Brown University.
"This award reinforces our own departmental initiative that aims to integrate in our curriculum material on the ethical and societal implications of computing." says Ugur Cetintemel, Department Chair. "As a first step, ten 'Ethics TAs' will be working with a number of courses this fall to develop and deliver such content. We plan to grow the number of Ethics TAs and the number of supported courses in subsequent semesters. Congratulations to Seny and his collaborators!"
In light of the award, Seny says: "I'm excited to work on expanding and changing the algorithms and data structure curriculum. I teach CS 16 and although we've had material about algorithmic fairness in the course since 2018, we will now be able to add a lot more content and assignments related to responsible CS. I'm really happy that Mozilla and its partners put this together and I'm excited to get started."
For more information, click the link that follows to contact Brown CS Communication Outreach Specialist Jesse C. Polhemus.