Brown CS Holds Its Fifth Annual Undergraduate Computer Science Research Symposium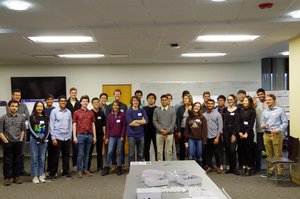 Click the links that follow for more news items about Jeff Huang, Stefanie Tellex, or the Undergraduate Computer Science Research Symposium.
As the academic year drew to a close, Brown CS held its annual Undergraduate Computer Science Research Symposium on May 2, 2019, organized by Professors Jeff Huang and Stefanie Tellex and Meta-URAs Mary Dong, Marshall Lerner, and Alan Yu. Now in its fifth year, the event features presentations of student research with the goal of showcasing cutting-edge work and encouraging other undergraduates to undertake research projects of their own.
Out of more than two dozen participants, the winners were:
Overall #1: Atsunobu Kotani ("Writing Robot")
"Atsunobi's work with Stefanie is about writing robots. The idea is to show the image of already drawn handwriting characters to the robot, and it will immediately infer a drawing policy to reproduce the image, while preserving details such as stroke orders and continuity. He also had a second project about handwriting synthesis. Imagine that you are asked to write 'hello' in your handwriting. The model Atsunobi trained can predict how you would write other words such as 'world' in your handwriting style, without ever asking you to write the characters."
Overall #2: Alex Jang ("Phonologically Informed Low-Resource Speech Recognition for Foreign Accents")
"Traditionally, dealing with foreign accents in automatic speech recognition (ASR) requires training data from speakers with each accent, which can be expensive to collect, take up lots of memory to store, and require lots of time to process. Instead, by using phonology to inform a model, we can remove the need for foreign accented training data, using only data from native English speakers."
Overall #3: Rohin Bhushan, Nathaniel Weir, and Shekar Ramaswamy ("DBPal")
"The team presents DBPal, a novel data exploration tool with a natural language interface. DBPal uses a deep model to translate natural language statements to SQL, making the translation process more robust to paraphrasing and other linguistic variations."
People's Choice: Alexander Chase ("Examining Lexical Differences In South America")
"With the rise of massive amounts of easily accessible data, linguistics is shifting from a social science to a data science. Alexander is intrigued by this concept, and this project is an exploration into how data science can be applied to visualize how language is being used. He aims to build upon past research done in Spanish linguistics to provide a unique perspective of the language variation in South America."
A total of $2,000 in prizes was generously donated by Mitsubishi and Amazon Robotics.
The image above is © 2019 by Joseph Spiegel and used with permission.
For more information, click the link the follows to contact Brown CS Communication Outreach Specialist Jesse C. Polhemus.