Jesse Polhemus Wins A Brown University Excellence Award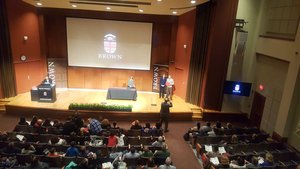 Click the links that follow for more news items about the accomplishments of Brown CS staff.
Integral to the success of Brown CS are the dedicated and hard-working staff members who show tireless commitment to improving the CS community. Recently, this effort was recognized when Communications Outreach Specialist Jesse Polhemus was awarded the 2018 Brown Excellence Award in Efficiency. This award recognizes the accomplishments of Brown staff members, and Jesse is one of the thirty-five honored this year. Nominated for his unwavering dedication to the department, Jesse was specifically highlighted for his work with alums for the UTA fundraising campaign.
Jesse, now in his fifth year at the University, fulfills a vital function for the team. In his current position, Jesse shares information and tells the stories of what makes Brown CS special, whether it's innovative research, teaching excellence, or the tight-knit community of faculty and students.
What makes him a great fit for the job? Well, it may very well be the unique perspective and diverse set of skills that Jesse brings to the table. "I see myself as a craftsperson (my heroes are the Roycrofters, a community of makers from last century's Arts and Crafts movement)," explains Jesse, "as someone who has worked hard to develop of set of skills and is trusted to use them with my mind and heart to produce meaningful work."
What attracted Jesse to Brown in particular? "One of the things I like about working for Brown is that if you take five minutes to get to know someone, they have another interest, or even expertise, in something that isn't immediately obvious," he says. "I got a Master's degree in Old English riddles and enigmata because I'm interested in how other people see the world, and I wanted to prove to myself that I had a solid understanding of something I care about."
There may not be very many Old English specialists in the ranks of computer science communication departments, but Jesse has clearly proved that his unique perspective provides an invaluable asset to our community. Ranging from his work on Conduit (the annual Brown CS magazine), to our first-ever Faculty Handbook, to his work with alums for the UTA endowment campaign, Jesse's accomplishments have left his mark on the program.
'I'm still smiling about it," laughs Jesse when asked about his recent win. "I've worked at private companies where awards were given out in response to low morale, and this is the exact opposite – I'm thrilled that the quality of my work is important to Brown." With such a dedicated team, it's no surprise that this award comes on the heels of numerous other honors for Brown CS staff. Most recently, Laura Dobler (Financial and Outreach Coordinator) was named an Office of Institutional Diversity and Inclusion Fellow and Lauren Clarke (Academic and IP Programs Manager) was awarded the Brown Excellence Award.
For more information, click the link that follows to contact Brown CS Communication Outreach Specialist Jesse Polhemus.