Tellex's Outreach Inspires A High School Student To Study CS, Then Teach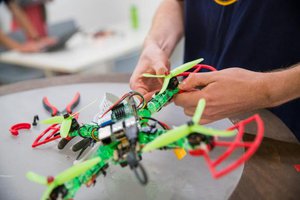 Click the link that follows for more news about Brown CS outreach and Stefanie Tellex.
"These are kids who would never have seen a real robotics lab otherwise," says Annalisa Marchessault, Pre-Engineering Instructor at Providence Career and Technical Academy (PCTA), one of New England's premier technical high schools. "Many of them don't even realize the magnitude of what Stefanie has done for them."
She's talking about Professor Stefanie Tellex of Brown University's Department of Computer Science (Brown CS), whose four-year outreach effort with the school's students has produced some inspiring results. Jose Toribio, one of the program's alums, is not only studying robotics but helping teach it to the next generation of students.
Now almost a decade old, Providence Career and Technical Academy allows students to choose a particular area of technology and then pursue their studies with a mix of internships and classwork. Computer science has always been a popular subject, and four years ago, Annalisa's predecessor approached Stefanie with a request that Tellex share her robotics work with PCTA students in the Engineering program.
The response was surprising: along with giving a talk, Tellex invited students to come and work with drones and robots in her Humans To Robots lab during the summer. "What makes Stefanie amazing is that she's so approachable," Annalisa says. "She reaches out, she wants everyone to learn, and nothing could have been better than giving our kids an opportunity to learn like this locally, working alongside Brown students." 
Jose Toribio was part of Stefanie's second cohort. For someone with a lifelong interest in computers, the Humans To Robots lab was filled with exciting possibilities. He says, "I liked how open the program was. If I came up with an idea, everyone was ready to think about how it could be achieved." Jose mentions that giving public demonstrations of drones he'd built with fellow students was one of the things he enjoyed most. (One of his demos was recently seen by Richard M. Locke, Brown's Provost.) "At one of them," he remembers, "I met someone from Google who was from Providence, someone just like us. It was really exciting to feel that connection to her." 
Maybe part of the excitement was because Jose was beginning to think about being a role model himself. After completing his second summer with Stefanie's lab, he ran the program for the five juniors and seniors who joined the following year, and accepted Annalisa's offer to serve as PCTA's Robotics Coach. This summer, he taught a high school course as part of Summer@Brown and mentored two high school students doing paid internships with Stefanie's lab.
"It's wonderful to see Jose's eagerness to share knowledge," Stefanie says. "He's the sort of person that when he first came into the lab, he immediately started showing another high school student how to solder. PCTA students have been a strong asset in hardware design and creating documentation for the course for the high school level.  I'm excited to continue working with them as our project grows!"
Now studying computer science at Rhode Island College, Jose says that it's a chance to revisit the important high school years that passed by so quickly: "It's incredible to see the next generation of students doing what I did. I love being able to share my experience and show them different ways to look at an experiment." When he graduates, he's hoping to move to a bigger city and continue his engineering work, particularly in the area of robotic vision. "I just want to thank Stefanie and Annalisa," Jose says. "Without them, I might be programming, but I'd never have had this chance to work up close with robots." 
Annalisa expects that there are big things in store for him. "Two of the most amazing things about this program," she says, "are Jose and Stefanie themselves. For kids in Jose's position, seeing how he wanted to go and learn, then come back and volunteer, is the coolest thing. He's someone like them, so they feel comfortable, and they see that everything he's done is attainable for them. And Stefanie doesn't have to do what she does, but she always makes the time. Thanks to her, these kids have seen possibilities for their lives that they'd never known about." 
For more information, click the link that follows to contact Brown CS Communication Outreach Specialist Jesse C. Polhemus.