Seny Kamara Has Been Appointed To An NAS Committee On Law Enforcement And Encryption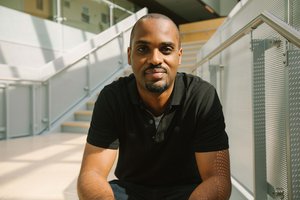 Less than a semester after his arrival at Brown University's Department of Computer Science (Brown CS), Associate Professor Seny Kamara continues to distinguish himself as a thought leader in the areas of cryptography and security. Recently chosen as a Michael Dukakis Leadership Fellow by the Boston Global Forum, he's now been appointed to a new committee created by the National Academy of Sciences.
The committee ("Law Enforcement and Intelligence Access to Plaintext Information in an Era of Widespread Strong Encryption: Options and Tradeoffs") is part of the organization's Division on Engineering and Physical Sciences, and it will examine the tradeoffs associated with mechanisms to provide authorized government agencies with access to the plaintext version of encrypted information. 
Their work will describe the context in which decisions about such mechanisms would be made and identify and characterize possible mechanisms and alternative means of obtaining information sought by the government for law enforcement or intelligence investigations. It will seek to find ways to measure or otherwise characterize risks so that they could be weighed against the potential law enforcement or intelligence benefits. However, it will not seek to answer the question of whether access mechanisms should be required but rather will provide an authoritative analysis of options and tradeoffs.
Seny joins a select group of 13 other experts from academia and industry, including Google, Intel, Microsoft, Massachusetts Institute of Technology, and Stanford University.
For more information, please click the link that follows to contact Brown CS Communication Outreach Specialist Jesse C. Polhemus.