Brown University's Executive Master In Cybersecurity Program Welcomes Its First Student Cohort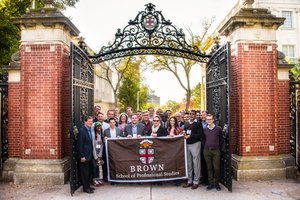 Brown University is pleased to welcome the first student cohort to begin its newly launched Executive Master in Cybersecurity (EMCS) program. The 16-month EMCS program, with classes beginning this week, builds on the university's interdisciplinary excellence in cybersecurity, highly accomplished faculty and students, and practical, hands-on experience to produce visionary and confident leaders who understand the technology, human, and policy issues that form a successful cybersecurity strategy and can lead transformative change within their organizations.
The class of 2018 is a diverse group of 28 accomplished professionals averaging 17 years of experience in a variety of sectors and professional roles. From a current U.S. Marine to marketing professionals, practicing attorneys, security officers, consultants and investors, the selectivity and diversity of the student cohort are key benefits of the program. Students are selected based on what they will contribute to the peer learning community and their readiness to benefit from the program.
"With unique education and experience, every student is an important contributor to the cohort," said Alan Usas, EMCS Program Director. "Not only do the students selected act as valuable resources for peers, but they become a trusted member of the lifelong professional networks that forms. We have a very strong group entering the program and we are prepared to graduate visionary and strategic leaders to meet the global, technical, human and policy challenges of cybersecurity."
According to the recently published report, "The State of Cyber Security Professional Careers," conducted by independent research firm, Enterprise Strategy Group (ESG), 46 percent of organizations claim to have a problematic shortage of cyber security skills and nearly two-thirds (65%) of cyber security professionals struggle to define their career paths. Operating on the central tenet that Strategy is the Best Security, the comprehensive and timely curriculum of the EMCS program prepares students with the conceptual framework and readiness to respond to challenges in cybersecurity, including: 
How to address global policy concerns such as cyber intelligence, data privacy, and internet governance;
How to understand the critical role that human factors and usability play in developing effective security strategies;
How to better anticipate the security and privacy implications of emerging technologies, such as big data, cloud computing, mobile computing, social networks, and the Internet of Things;
Gain proficiency in identifying vulnerabilities, anticipating attacks, using monitoring tools, and developing defensive strategies; and
Build organizational resilience, and crisis management and response capabilities.
For the first time in the university's history, Brown opened the ceremonial Van Wickle gates to EMCS students during the Oct. 16 convocation. Opened only three times a year for convocation, mid-year graduation and commencement, the opening of the Van Wickle gates for the EMCS students ushers in a new tradition for the university and underscores the importance of the Executive Master portfolio of programs, and its students, to the Brown community.