Our Third Annual Tech Fair Matches Students With Industry Leaders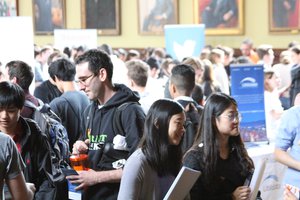 Tech Fair 2016 is here! Brown CS's Industry Partner Program, in conjunction with the CareerLAB, is hosting our third annual event on September 28-29, 2016, from 11 AM to 3 PM each day in Sayles Hall.
Brown CS has a long history of matching our students with industry leaders, startup companies, and everything in between, so we're really excited about continuing that great run. The Tech Fair is a highly-anticipated opportunity for students at all degree levels who are looking for jobs and internships in the tech sector to connect with employers looking to hire them. Companies of every size and description will be on hand to answer questions, collect resumes, and provide insight into their recruiting process: if you're a student, click here to see the list of participants on 9/28 and here for 9/29. 
If you're looking to work in the tech sector or even thinking about it, drop by. See you at the Tech Fair!