Brown CS Celebrates Commencement 2016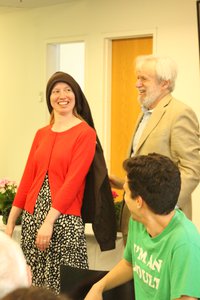 Notable this year for the size of the graduating class (168 undergrads, breaking last year's record by 28%) and every year for sentiment, well-deserved pride, and a sense of fun, Brown University's Department of Computer Science (Brown CS) celebrated Commencement 2016 this past weekend.
Festivities began on Friday with the Hooding Ceremony, where friends and family members applauded as graduating Master's students received Brown CS sweatshirts and graduating PhD students were "hooded" by their advisors, who placed hooded sweatshirts directly over their heads, often to the sound of laughter.
Saturday was the 37th Anniversary Brown CS Reunion, and as always, the third floor of the CIT overflowed as the entire Brown CS community of students, alums, faculty, staff, family, and friends rejoined each other to celebrate. This year, Brown CS recognized two alums, Sridhar Ramaswamy and Norm Meyrowitz, celebrating their achievements and dedication to the Department with a special ceremony and champagne toast.
The capstone of the weekend took place on Sunday, when a record number of students walked down the aisle of the First Unitarian Church to receive their diplomas.
Congratulations to all our graduates! Photos of all three events (Commencement photos are still being processed) are available at https://flic.kr/s/aHskAjGMd5.
For more information, please click the link that follows to contact Brown CS Communication Outreach Specialist Jesse C. Polhemus.