Four Brown CS Students Recognized As 2015 Google Scholars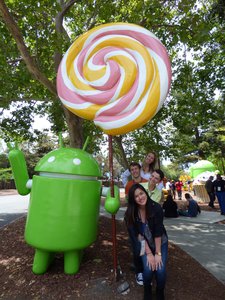 Four students from Brown University's Department of Computer Science attended Google's Scholars Retreat in Mountain View, California this past week, where they each accepted highly selective Google scholarships. Together with an incoming student who was also chosen and one who was recognized as a finalist, they received recognition and support toward their education for the 2015-16 academic year as they become part of the next generation of diverse tech leaders.
The students were awarded scholarships in several categories, achieving a level of representation that few Brown CS rivals matched:
Sharon Lo '16 and Danaë Metaxa-Kakavouli '15 (incoming Stanford PhD student) won the Google Anita Borg Memorial Scholarship, awarded to 20 women students and leaders in CS
Paige Selby M'16 and Eli White '18 won the Google Lime Award, awarded to 12 high-achieving CS students with disabilities
Luis Aguirre '19 was one of 20 winners of the Generation Google Scholarship for incoming CS college students from underrepresented backgrounds
Ebube Chuba '19 was also recognized as one of ten finalists for the Generation Google Scholarship. 
During the four-day retreat in Mountain View the scholars attended tech talks, networked with Google employees, participated in developmental activities and sessions, and attended social activities with the other Google scholars.
"I personally would say I left the retreat really appreciative that I get to be part of the Brown community," Sharon says. "During the retreat, we had a talk from a program manager from Google X, one of Google's most innovative teams aimed at creating major 'moonshot' technological advancements and (surprise, but almost no surprise at all!) she was a Brown alum."