Barbara Meier Appointed Senior Lecturer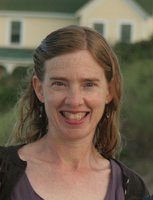 The department is thrilled to announce that Barbara Meier '83, M '87, has been promoted to Senior Lecturer. Barb teaches computer animation, where she focuses on aesthetics and storytelling as much as technical aspects in her courses which include Introduction to Animation and Intermediate Computer Animation.
Before teaching at Brown, Barb worked as a visual effects animator for feature films and music videos when computer graphics production was just beginning to have a place in Hollywood. She worked with and learned from many talented computer graphics artists, feature film directors, visual effects supervisors, and producers. Barb is also involved in research projects in the areas of artistic (non-photorealistic) rendering and in the use of color in computer graphics.
"I'm personally delighted with Barb's promotion to Senior Lecturer, the first such position in our Department's history," said Andy van Dam. "Barb's courses are known as among the very best (and most intense and oversubscribed) courses in our department, and her dedication to her classes and her students is legendary. Barb's extensive personal experience as computer scientist and visual effects artist inform her 'studio courses' in animation and they offer a wonderful complement to the more traditional computer-science-oriented graphics courses we teach. These are magnet courses not just for computer science students interested in computer graphics imagery in films and video games, but also students with such interests from other sectors of campus. Brown's undergraduates are especially in demand in these industries because they combine computer science competence with production experience."