Nabeel Gillani Receives Brown University Distinguished Senior Thesis Award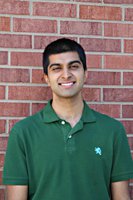 Nabeel Gillani was recently awarded the Brown University Distinguished Senior Thesis Award for his honors thesis, Joint Assessment and Restoration of Power Systems. Pascal Van Hentenryck was Nabeel's advisor and Carleton Coffrin's research was the starting point of the thesis.
The award recognizes exemplary senior thesis projects by undergraduate students across the university. Award recipients exemplify the range and quality of undergraduate research at Brown University. Each finalist makes an important and original contribution to an academic discipline, and all finalists provide lucid explorations of important issues and questions of interest to today's educated readers.
Nabeel is also the first Brown computer science student to be elected to the American Rhodes Scholar Class of 2012 and was selected from a pool of 830 candidates.