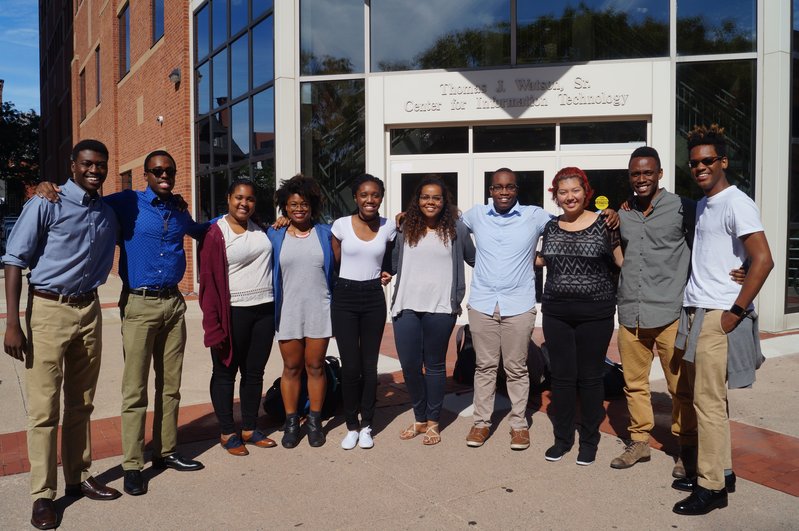 Mosaic+ is a student-run organization created to foster community, inspire innovation, and provide opportunity to underrepresented minority students. Mosaic+ is officially recognized and supported by the Brown University Computer Science Department.
The Mosaic+ Transition Program is for newly admitted students interested in learning more about computer science, with an emphasis on being a receptive and inclusive space for community members from racial or ethnic backgrounds that are historically underrepresented (HUGs). No prior computer science experience is necessary. Students will experience an exciting mix of technical and community-oriented activities and tasks to help prepare them for the rigors of computer science.
The hybrid pre-orientation program includes a 3-week online academic course, and 4-days of on-campus CS lessons, social activities, workshops, info-sessions, talks and field trips.
Program dates: August 1-27, 2022
Online: August 1-19, 2022 (3 weeks)
In-person: Wednesday August 24 to Saturday August 27 (move-in Tuesday August 23) 
How to Apply: 
Complete this Program Application by July 11, 2022.
"Getting the opportunity to meet peers who come from similar backgrounds and have similar interests, before starting my first-year at Brown, was pivotal to my success that year. We formed a community that is always there to support one another when classes become difficult. Being a minority in STEM can feel lonely at times, but having the Mosaic+ community's support always brings confidence in the potential we all have." -- Jessica Gonzalez, '22
"The Transition Program introduced me to so many resources right from the start that immensely aided my shift from high school to college life and academics. There is a real sense of community within Mosaic+ that makes me feel loved and supported even though I am many miles away from home." -- Credo Duarte Lutton, '22
Who should apply?
This program is geared towards newly admitted students that identify as from historically underrepresented groups (HUGs)* who have an interest in computer science, or want to learn more about the field, at any level of experience!
*HUGs includes students that identify as Black, African-American, Indigenous, Alaskan Native, Hispanic, Latina/o/x, Native Hawaiian, Pacific Islander and/or other underrepresented racial/ethnic minorities.
What will students learn during the program?
Throughout the course of the transition program, students will learn about:
Computer science as a field
Computer science at Brown University 
The computer science industry
Coding basics
What to expect in their first semester as a computer science student
When and where will this program be held?
For 2022, this program will run for 3-weeks online from Monday August 1 until Friday August 19, and 4-days in-person from Wednesday August 24 until Saturday August 27. Eligible students will participate in online and in-person CS lessons and in-person community-building activities, workshops and first-year info-sessions. Students admitted to the program are eligible to move into their fall dorm room early on Tuesday August 23. 
Frequently Asked Questions
Do you have to concentrate in CS to apply for the Mosaic+ Transition Program?
No. You do not need to concentrate in CS if you want to apply. Students with a general interest in CS are eligible to apply. Brown University students do not declare their concentration until their sophomore year.
How much does the Mosaic+ Transition Program cost?
$0.00. The cost of the Mosaic+ Transition Program is not charged to the student and/or the families involved, it is covered by the institution. 
Can I participate in another pre-orientation program and Mosaic+ Transition Program?
Yes. Students that apply to Mosaic+ Transition Program must also apply and participate in the Third World Transition Program (TWTP) and/or International Orientation. Students are also eligible to apply and participate in the NS-Catalyst Pre-Orientaiton program, and Excellence@Brown. 
Will participation in the Mosaic+ Transition Program be graded? Is the course for-credit?
No. This is a 0-credit optional pre-orientation program. Completion of the assignments in this course will have no affect on your first-year courses' grades or your official transcript. The lessons are exclusively for your benefit to gain a rudimentary understanding of CS concepts and programming languages before taking one of the CS intro courses (CS15, CS17, CS111, or CS19).
I have a job this summer, can I still participate in the program?
Yes, we estimate the time commitment is 5 hours per week for the online program. We ask that students get as much work as they can done, but recognize that students have busy lives and a lot of priorities to juggle, so the program is intentionally flexible. Students will need to be able to move in early on Tuesday August 23 to participate fully in the in-person program.