RLDM 2022 Brings Over 500 Reinforcement Learning Researchers To Brown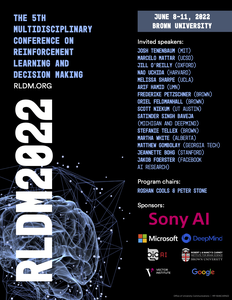 This week, Brown University hosts the Multi-disciplinary Conference on Reinforcement Learning and Decision Making (RLDM), bringing over 500 of the field's thought leaders to Providence and demonstrating Brown's continued status as one of the world's leading centers for reinforcement learning (RL) research and study. Attendees will include the field's founders, Andy Barto and Rich Sutton, and many others who have made seminal contributions, including Peter Dayan, who in 2017 received a Brain Prize for identifying how RL principles explain the workings of the dopamine system in the brain and its implications for human decision-making and its disorders.
"The RL field has been incredibly influential for developing new principles of brain function," says Professor Michael Frank. "This conference is a fertile ground by which research communities with shared goals in understanding natural and artificial intelligence can augment each other and catalyze new discoveries. We're thrilled to host it at Brown."
RLDM is an interdisciplinary conference, hosting two families of RL researchers who often work in parallel: those studying computational reinforcement-learning algorithms, and those who use reinforcement learning as a model of decision-making in the brain and reciprocally develop new RL algorithms to better capture the mechanisms by which the brain solves RL problems, and to inspire developments in AI. Brown is home to some of the field's leading researchers in both families, the former at Brown CS (Professors Amy Greenwald, George Konidaris, Michael Littman, and Stefanie Tellex) and the latter at the Carney Institute for Brain Science and its Center for Computational Brain Science (Professors Wael Asaad, David Badre, Theresa Desrochers, Oriel FeldmanHall, Michael Frank, Matthew R. Nassar, Frederike Petzschner, and Amitai Shenhav).
The conference features invited talks from speakers on both sides of the artificial/natural divide, including Brown's own Professor Stefanie Tellex from the CS side and Professors Oriel FeldmanHall and Frederike Petzschner from the natural side. Professor Arif Hamid of the University of Minnesota, former postdoctoral trainee with Professors Michael Frank and Christopher Moore of the Carney Institute, will also present a revised understanding of the dopamine system with implications for RL based on work they did at Brown.  Other speakers are listed here.
The main meeting will be single-track, consisting of a mixture of invited and contributed talks, tutorials, and poster sessions. For those unable to attend, all invited and contributed talks will be recorded and made public within a few days after the talks.
Professor Michael Littman of Brown CS is General Co-Chair of the event, along with New York University's Professor Catherine Hartley. The two served as program chairs for the 2019 conference. This year's Program Chairs are Professor Roshan Cools of Radboud University Nijmegen and Peter Stone of University of Texas at Austin. Local Chairs are Professor Michael Frank, Director of the Carney Center for Computational Brain Science and Professor of Cognitive, Linguistic, and Psychological Sciences (CLPS), and Professor George Konidaris of Brown CS. The Social Chair is Professor Amitai Shenhav of CLPS. Sponsors include the Carney Institute for Brain Science, Sony AI, Microsoft, DeepMind, the Vector Institute, and Google.
"Reinforcement learning is at the very core of the entire Artificial Intelligence enterprise," says Professor George Konidaris of Brown CS, "because it's the only machine learning paradigm that focuses on how an agent's interaction with the world can help it achieve its goals. It's incredibly exciting to have RL researchers from all over the world – including my home country of South Africa! – converging on Brown, which in the last decade or so has become a world center for RL research." He added, "It's going to be great to see everyone again!"
For more information, click the link that follows to contact Brown CS Communication and Outreach Specialist Jesse C. Polhemus.