Research Associate Tom Sgouros Applies Data Science To Pension Reform With A New Grant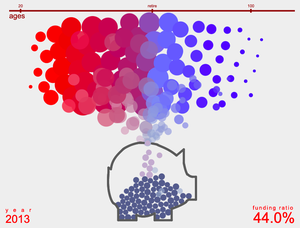 Click the link that follows for more news about Tom Sgouros.
"From a data science perspective," says Brown CS Research Associate Tom Sgouros, "some of what passes for normal in the world of pension systems isn't really acceptable in the scientific world. With this grant, a major part of what I hope will happen is that citizens and politicians will understand which numbers they're using have a high degree of precision, which don't, and what range of results might come out of that."
The grant that Tom's referring to was awarded earlier this year by Arnold Ventures, and is being implemented under the aegis of Brown University's Policy Lab. Its funding allows Sgouros to lead a working group of experts from pension plans and organizations around the country to develop alternatives to the existing accounting rules for public pension systems. The new effort continues more than a half-decade of his research that includes a 2019 report ("The Case for New Pension Accounting Standards") for the National Conference on Public Employee Retirement Systems. (A related piggy-bank visualization of a pension system is available here.)
Tom explains that pension systems routinely have to make extremely impactful decisions after creating low-precision numbers based on probabilities and assumptions (how long someone will stay with their job, how likely they are to be promoted, how much inflation will occur) and then combining them with a much more accurate number, like the total value of assets on hand. The result is a very unreliable number, but it is treated as an accurate measurement.
"This is where the data scientists rear their heads!" Sgouros laughs. "The use of data and the question of our confidence in the data we have are both things that data science people are very sensitive to. Accountants and actuaries understand this, but the legislators and managers and the public that reads their numbers probably don't. When you read that the pension plan in Illinois is 50% funded, that doesn't mean what you think it means, and it's not a reliable number, but people are making important decisions based on that number."
"At least as important," Sgouros went on, "is that these numbers people use suggest certain obvious policies, and lots of times that obvious policy choice is bad. We're asking whether different numbers might suggest better policy choices."
Tom's group of experts first met on February 19, and they're currently working in subcommittees to draft a new set of accounting rules. After a series of additional discussions and revisions, they'll deliver in October a set of accounting metrics that a pension fund can use to portray its condition to policy makers and whoever else is interested. The rules will be presented as a report, with the arguments pro and con and test cases to support them. An appendix to the report will show how the metrics developed can be applied to the test systems, to compare with the standard metrics in a discussion of potential policies that might be undertaken for them. The rules will also be presented in a "how-to" document issued as a guide to plan managers interested in the raw implementation details.
Sgouros doesn't expect the world's pension systems to change overnight, but getting their accountants and managers to think differently would be a significant start.
"The way the system is set up now," Tom says, "the only way for pension systems to redo their numbers is to admit they did things wrong two years ago, but they didn't necessarily do it wrong! They made a perfectly defensible bet on seven, and things came up snake eyes. But if they're able to think like a data scientist about what they're confident about, it'll be a big step forward. If that's all that this project provides to the pension world, it'll be plenty."
For more information, click the link that follows to contact Brown CS Communication Outreach Specialist Jesse C. Polhemus.