Brown CS Undergrads Take Third At The International Collegiate Programming Contest Regionals And Advance To The Nationals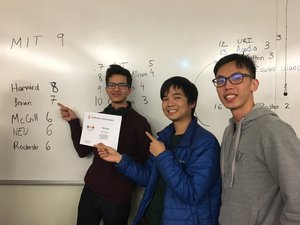 Click the links that follow for more news about Rodrigo Fonseca  and how Brown CS students continue to distinguish themselves at hackathons and competitions nationwide. 
The International Collegiate Programming Contest (ICPC) is believed to be oldest, largest, and perhaps the most prestigious programming competition in the world. An algorithmic programming contest for college students, it requires teams of three to solve real-world problems, fostering collaboration, creativity, innovation, and the ability to perform under pressure. 
Last month, a team from Brown CS (undergraduate students Khemarat Boonyapaluk, Rutchathon Chairattana-Apirom, and Shreeyash Gotmare, coached by Professor Rodrigo Fonseca) returned from the ICPC's 2019 Northeast North America Regional Contest with a Third Place award. Their competitors were drawn from states and provinces that included Quebec, New Brunswick, Nova Scotia, Prince Edward Island, Newfoundland, Labrador, Maine, New Hampshire, Vermont, Massachusetts, Rhode Island, Connecticut, and New York, with the exception of New York City.
After working with a five-hour deadline to solve the greatest number of problems in the fewest attempts in the least cumulative time, the Brown team was awarded the opportunity to advance to the ICPC North American Championship, which will be held in Atlanta, Georgia, in February, 2020. Winners of that event will continue onward to the World Finals in Moscow, Russia. In last year's regionals, 49,935 contestants from 3,098 universities in 111 countries on six continents competed at over 530 sites to advance to the World Finals.
For more information, click the link that follows to contact Brown CS Communication Outreach Jesse C. Polhemus.