On March 21, team Brown Secure '19, composed of Brown CS students Nicole Cheng, Manuel Gorotiza, Willem Speckmann, and Angela Zhuo, and coached by Professor John Savage, competed in the seventh annual Atlantic Council Cyber 9/12 Strategy Challenge in Washington, DC. The event featured a record-setting 47 teams from institutions across the country and was designed to give students a taste of the challenges that face White House policy makers when responding to national cybersecurity threats. This is John's sixth year of participating in the competition, and his previous teams were winners of first place in 2015 and a prize for Best Teamwork in 2014. 
The competition began weeks in advance, when the students prepared a decision document, operating as if they were members of the National Security Council staff. This year's cybersecurity threat involved both software and hardware vulnerabilities at the United States Census Bureau, and the team proposed multiple policy recommendations, including the creation of a task force and the declaration of a national emergency in order to make additional funds available and require intelligence services to assess the extent of foreign interference.
On the morning of March 21, teams had ten minutes to present their ideas orally, took questions for ten minutes, recessed, and then returned for feedback. Judges included a wide selection of individuals from both the public and private sector. During lunch, students attended presentations and career panels led by experts from the Cybersecurity and Infrastructure Security Agency, the Fletcher School of Law and Diplomacy at Tufts University, the Scowcroft Center for Strategy and Security, the US Department of Homeland Security, and other organizations. 
That evening, the teams were hosted by the Baker & McKenzie global law firm at their offices on Connecticut Avenue, overlooking Lafayette Park and the White House. Speakers included David Lashway (Co-chair of the Global Cybersecurity Practice and Partner at Baker & McKenzie), Barry Pavel (Senior Vice President, Arnold Kanter Chair, and Director of the Scowcroft Center for Strategy and Security at the Atlantic Council), and Christopher Krebs (Director of the Cybersecurity and Infrastructure Security Agency at the US Department of Homeland Security.  
This year, Brown's team wasn't among the qualifiers for the next round, so they spent their second day touring the city, including a visit to the Air and Space Museum. Nevertheless, John is very proud of their hard work.
"The competition was fierce," he says, "and I was really pleased with our team's solutions. One of the judges questioned whether a national emergency was necessary, but given the unprecedented nature of the threat, I don't think it's an unreasonable solution. The students were very well prepared, they presented well, and I'm glad they had the opportunity to meet some true experts and hear about cutting-edge developments in the field."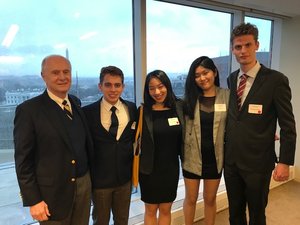 From left to right: John Savage, Manuel Gorotiza, Angela Zhuo, Nicole Cheng, and Willem Speckmann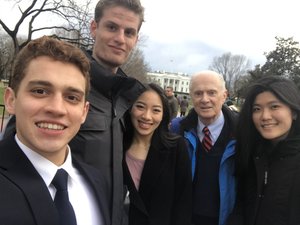 From left to right: Manuel Gorotiza, Willem Speckmann, Angela Zhuo, John Savage, and Nicole Cheng
For more information, please click the link that follows to contact Brown CS Communication Outreach Specialist Jesse C. Polhemus.