Ritambhara Singh Joins Brown CS And CCMB As Assistant Professor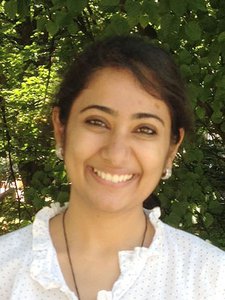 What does the future hold at the intersection of machine learning and computational biology? A conversation with the newest member of the Brown CS and Center for Molecular Computational Biology (CCMB) faculty provides an opportunity to ask an expert.
"I can't tell you whether it'll be five years, ten years, or whenever," says Ritambhara Singh, who joins us as Assistant Professor next year, "but in my head I have a perfect picture of how they'll fit together. A patient will walk into a clinic, provide a blood sample, and based on computational analysis of it, we'll help her doctor reduce the number of possible diagnoses and decide on the best treatment. At the moment, we have genetic diseases and we have treatments, but we don't know enough about why these diseases occur. At some point, the link will be made. At least, that's the utopia I have in mind!"
Before we leave the topic of the future, Ritambhara mentions something else that she wants to see in the days ahead. "I'm a very big promoter of women in STEM fields," she says. "It's something that I want to work on at Brown – I think a focus on the next generation of women scientists is really important, and I'm excited about hopefully inspiring women."
Excitement was a part of Singh's experience with computers long before she wrote her first line of code. Compared to the United States, she explains, personal computers were introduced to India quite late, and her parents didn't buy one until she was in the sixth grade. An eleven-year-old Ritambhara went to uncommon lengths to pursue CS studies from the very beginning, signing up for a computer class that her parents required before making the purchase. But afterward? "It was amazing," she says. "I was the only one in my family who knew how to use it, so I had this privileged status." 
After high school, computer science was the clear choice for a major even though Ritambhara hadn't done a great deal of coding yet. "It was a bit of a struggle at first," she says, "but once I got the hang of it, it was addictive." The experience of suddenly looking up and finding herself eight hours into working on a project was a common one, and the four years went by quickly.
The time that followed at University of Virginia (a Master's and then a PhD) were full of career-defining choices. "I wasn't sure what to study," Ritambhara says, "but my father is a doctor and I've always been interested in biology, so I thought computational biology would be a good fit." Once again, she found herself putting in extra effort by taking supplementary biology courses while working with Professor Mazhar Adli, a biochemist.
Professor Yanjun Qi, a machine learning (ML) expert, arrived at UVA in 2013, and Ritambhara saw the chance to combine ML with computational biology. "I'm so happy that I decided to take the risk," she says. "Machine learning was such a good fit because one person cannot make sense of the large amounts of data in biology. There was a bit of a learning curve, but I really enjoyed it. If there's something that excites me in a topic, I enjoy the learning process."
The collaborations that were so formative for her research are a big part of what made Ritambhara choose Brown CS: "The setup at Brown is an amazing collaborative space. Biologists are excited about computer science, and vice-versa. Brown is unique, and there are so many bright minds and great opportunities. It was wonderful to see how excited people were about my research. Being in academia gives me the freedom to try new approaches and truly experiment and explore."
"Both the Center for Computational Molecular Biology and CS communities at Brown were extremely impressed with Ritambhara's research talk and our one-on-one interactions with her," says Sohini Ramachandran, Associate Professor of Ecology and Evolutionary Biology, Associate Professor of Computer Science, and Director of the Center for Computational Molecular Biology. "She fielded questions from colleagues in Biology and CS with aplomb, and the Computational Biology graduate students all remarked on the thoughtful interest she showed in their research. I think she will fit right into the ethos at Brown, where we see all community members as people we can learn from, and where interdisciplinary work is highly valued."
How does Ritambhara describe her work? "My research involves developing and applying machine learning algorithms and models to understand data in biology. We all have the basic building blocks of DNA, but our environment plays a huge part in whether a cell stays healthy or becomes diseased. To start making sense of all the data we gather, we need to experiment. Machine learning helps us design experiments more intelligently, looking through the data to see if our hypotheses were correct and hopefully discovering which features may have caused the gene expression that turns a normal cell into a cancerous one."
"One of the main ideas that I see in computational biology," she says, "is that with every problem we work on, we hope to eventually help people. In the beginning, computational biologists had such a long road ahead of them because they first had to understand what was happening genetically. Then, we spent a great deal of time gathering data. It's exciting to finally be acting on all that knowledge that we've gathered, using machine learning to help. The point isn't just collecting data, it's ultimately helping people." 
For more information, click the link that follows to contact Brown CS Communication Outreach Specialist Jesse C. Polhemus.