Stefanie Tellex Gives An Invited Talk At EMNLP 2016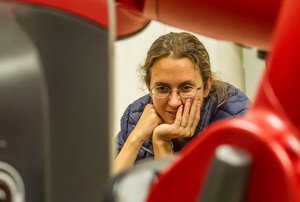 Assistant Professor Stefanie Tellex of Brown University's Department of Computer Science (Brown CS) has just returned from the largest conference devoted to natural language processing (NLP), where she gave an invited talk. SIGDAT (the Association for Computational Linguistics' special interest group on linguistic data and corpus-based approaches to NLP)'s Conference on Empirical Methods in Natural Language Processing (EMNLP) 2016 was held in Austin, Texas, from November 1-5, 2016.
One of only three invited speakers, Stefanie spoke on Thursday, November 3. In her talk ("Learning Models of Language, Action and Perception for Human-Robot Collaboration"), she described robots as "force multipliers" that can assist an astronaut with a repair on the International Space station, a UAV taking flight over our cities, or an autonomous vehicle driving through our streets. 
"The aim of my research program," she explains, "is to create autonomous robots that collaborate with people to meet their needs by learning decision-theoretic models for communication, action, and perception....I am creating new methods for learning how to plan in very large, uncertain state-action spaces by using hierarchical abstraction. Perception for collaboration requires the robot to detect, localize, and manipulate the objects in its environment that are most important to its human collaborator. I am creating new methods for autonomously acquiring perceptual models in situ so the robot can perceive the objects most relevant to the human's goals. My unified decision-theoretic framework supports data-driven training and robust, feedback-driven human-robot collaboration."
For more information, please click the link that follows to contact Brown CS Communication Outreach Specialist Jesse C. Polhemus.