Roberto Tamassia Prepares To Step Down As Department Chair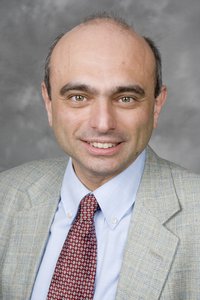 Roberto Tamassia is stepping down. At the end of his seven-year tenure as Brown University Computer Science (BrownCS) Department Chair (two terms, plus a transitional year as Professor Ugur Cetintemel prepares to take on the role), he takes a moment to look back on the years past from his office on the fourth floor of the Center for Information Technology.
A look around Roberto's habitat reveals little: a vintage Macintosh, orderly shelves displaying copies of his books and translations, an uncluttered desk, an ergonomic computer cart with a large display, a whiteboard filled with formulas and diagrams, the sparseness and simplicity that mark a number of the offices in the building. The lack of décor invites a stereotype: the computer scientist with only one foot in the world, preferring to deal with abstractions, with ones and zeroes. But interviews with Roberto and numerous colleagues demonstrate the exact opposite. They reveal a man who hasn't sought attention, but has worked in concert with his colleagues with subtlety and rare skill, achieving impressive results. 
"Now that I've worked closely with him," says Ugur Cetintemel, "I see how Roberto thinks. He works with people, he doesn't make knee-jerk decisions. And he's able to create pragmatic, balanced solutions because he considers all the dimensions, the subtleties and complexities of a problem."
Asked to look back to the beginning of his first term, Roberto modestly explains that many things were the same then as they are now. "We've had great faculty and staff members throughout. Professors and students are doing high-impact work and they believe in the importance of research and education and their synergy. As I stepped into the position," Roberto reminisces, "I felt very grateful to the past Chairs, Andy van Dam, John Savage, Eugene Charniak, Tom Dean, and Eli Upfal, who had built an outstanding department with a strong culture of collegiality."
However, one area that has seen considerable change is recruitment: Roberto notes with pride that one-third of the existing faculty has been hired during his time as Department Chair. In each case, the process was protracted, intense, and challenging. "For instance," explains Roberto, "we first need to decide collegially which areas we hire in. Then, do we hire established senior faculty or junior faculty who will grow with the Department? Recruiting was always one of my highest priorities."
"Roberto put us on a much more professional setting," explains Professor John Savage. "He persuaded the Administration to provide space for faculty expansion, and most importantly, led the effort not only to make terrific new faculty hires but also to retain outstanding colleagues who were the targets of external offers."
Professor Andy van Dam highlights the interpersonal skills that served Roberto well in recruiting as well as other areas: "He very capably steered us through another period of expansion and growth in all dimensions. Roberto deserves high marks for statesmanship, for keeping his various strong-minded constituents together." This cohesion is a source of real pride for Roberto, who says, "I always try to listen. I ask people: how can you be successful at Brown? And that includes our students. We need collective vision, a long conversation."
Professional recognition is part of this. Roberto notes that he personally nominated four of the five junior faculty members who have received Sloan Research Fellowships. "This means visibility," he says. "Verification of our success. It shows the promise of our faculty and the Department."
"The most important thing," Ugur Cetintemel emphasizes, "is how Roberto deals with people. He's always taken the attitude that we have the best people, and it shows when he speaks. He builds a rapport, he's very credible. He's done remarkably well."
Ugur also mentions Roberto's decision to form an Executive Committee that has served as a sounding board for important decisions and allowed the Department Chair to delegate some of the effort needed for new projects. Many colleagues find this ability to collaborate to be one of Roberto's greatest strengths. Andy van Dam comments: "He helped the Department help itself. As a credit to Roberto's diplomatic skills, many efforts were made on the faculty's behalf that we weren't even aware of. That's a feature, not a bug."  
Associate Professor (Research) Tom Doeppner has worked more closely with Roberto than most, recently serving as Vice Chair. "Roberto is successful as a diplomat," he explains, "because he's amazingly precise, so good with spreadsheets. He does his homework and builds such a strong case with the data that it's impossible to argue with him."
The seven years weren't without their struggles. "The competition for talent is global now," says Roberto. "The world is realizing that America is not a default destination for academic excellence." In addition to seeing enrollment almost triple, BrownCS has faced financial challenges: "We've had to increase revenue generation and manage costs. I had to conduct a difficult experiment: can we reduce significantly our expenditures? It was done for the right reasons as soon as I started as Chair in 2007-08, as clouds were thickening on the financial horizon, and it worked. When the crisis hit, BrownCS was ready to withstand a prolonged financially challenging period."
Ugur agrees: "Roberto is very competent with finances. He built a very strong base, with two separate streams: the Master's program and the Industrial Partners Program. His leadership was key."
Tom Doeppner credits Roberto's thoroughness for his financial success: "He takes everything seriously, and he has a concern for detail. We've already looked at multiple floor samples for the renovation of Room 368, but instead of going ahead with something inferior, he's asking to see more." Roberto is also unafraid to get his hands dirty. Tom relays the story of how Roberto personally removed a large set of built-in bookshelves in the 4th floor Library to avoid the cost of having the work done professionally.
But there's an additional dimension to these financial achievements. "I've championed diversity," Roberto explains. "We managed to keep the Artemis program alive, even when support was hard to come by. It's vital that we counter the stereotypes and continue encouraging young women to join our field." Other successes are personal: "I'm proud that I've kept my research program active. Since I became Department Chair, I've published five books, over three dozen research articles, and continued teaching throughout. But most importantly, during this period, I had the privilege to work with six great PhD students: Danfeng Yao, Charalampos Papamanthou, James Kelley, Olga Ohrimenko, Esha Ghosh, and Evgenios Kornaropoulos. I am grateful to them for brightening my days with engaging research discussions and for patiently adjusting to my ever-shifting schedule."
What does the future hold for Roberto? First, a sabbatical, and then he's looking forward to more research and teaching. "I want to thank all of BrownCS and all of Brown," he says. "The faculty and students, our AStaff and TStaff."
"I am especially grateful to Franco Preparata, John Savage, and Andy van Dam," adds Roberto, "for their invaluable advice and support.  I am also indebted to Ugur Cetintemel, Maurice Herlihy, David Laidlaw, and John Savage for serving as Executive Committee members. Additional thanks go to Ugur Cetintemel, Amy Greenwald, John Hughes, and Shriram Krishnamurthi for their contributions to our Industrial Partners Program, Artemis program, faculty recruitment, and PhD Program, respectively." Roberto continues, noting that "Tom Doeppner has been an outstanding collaborator as Vice Chair, Director of Undergraduate Studies, and Director of the Master's Program. Tom and our wonderful staff members, expertly led by Jane McIlmail and Jeff Coady, deserve major credit for the success of the Department. I particularly enjoyed working closely with Jane, Jeff, John Bazik, Lauren Clarke, Mark Dieterich, Jesse Polhemus, and Amy Tarbox.  Finally, a huge thanks goes to Janet Eager and Angel Murakami, who have been super-efficient executive assistants."
Roberto's tenure as Department Chair has spanned two generations of University leaders.  He thanks them as well, stating, "I had a great relationship with Deans of the Faculty Rajiv Vohra and Kevin McLaughlin, Vice Presidents for Research Clyde Briant and David Savitz, Dean of the College Katherine Bergeron, Deans of the Graduate School Sheila Bonde and Peter Weber, Provosts David Kertzer and Mark Schlissel, and Presidents Ruth Simmons and Christina Paxson. The Department has benefited from their steady support over the years. I would like to also thank Associate Deans of the Faculty Janet Blume and Carolyn Dean, Chief Information Officers Mike Pickett and Ravi Pendse, and Dean of Continuing Education Karen Sibley."
Roberto's colleagues return the sentiment with true warmth. Professor Franco Preparata, commenting on decades of friendship and collaboration, says, "First, he is a good scientist, enterprising and well-prepared. But he enjoys whatever he devotes himself to. Even I was surprised by the extreme energy and enthusiasm that he brought to this role." John Savage agrees: "Roberto is to be congratulated, especially since he has retained his good humor and perseverance throughout."
When asked to look ahead to Ugur's term as Department Chair, Roberto finds a moment for a little levity. He points to the simple wheeled cart that supports his computer monitor: "Other than buying that, I didn't renovate the Chair's office. Ugur is probably disappointed!"
He declines the offer of giving any advice to his successor: "I'm thrilled that Ugur has agreed to serve as the next Department Chair. It's his vision: he has a lot of wisdom, is scientifically highly accomplished, and is a stellar teacher. He has all the right qualities, and he's a great collaborator with collegial spirit."
"I'd like to thank Roberto," Ugur responds. "I benefited so much from his open door throughout this extra year. We're all in a much better position. Even after my term starts, I'll e-mail him, I'll knock on his door." He pauses for a moment, then makes a statement that many have echoed recently: "Roberto is someone I always want to work with."