Look Where Our 2021 Graduates Are Headed!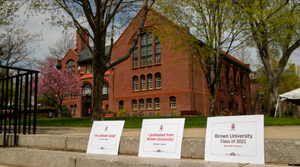 Click the links that follow for more news about our award-winning students and pioneering alums.
At this spring's Commencement ceremony, held virtually due to the COVID-19 pandemic, Brown CS presented undergraduate diplomas to 295 students. 18.9% of all Brown graduates earned CS degrees this year, up from 17.0% last year. Here are just a few of the places where our newest alums will be working:
Ab Initio
ADP
Amazon
Amazon Robotics
Amgen
Apple
Asana
Bank of America
Blizzard Entertainment
Capital One
Citi
Common Sense Machines
Deloitte
Deutsche Bank
Duolingo
eBay
Facebook
Goldman Sachs
Google
Groupon
Microsoft
MongoDB
Oracle
Oscar Health
Palantir Technologies
PTC
Square
TikTok
Twitter
Zenysis
Congratulations to everyone! We have tremendous respect for your talents and effort, and we wish you all the best in the days ahead.
For more information, click the link that follows to contact Brown CS Communication Outreach Specialist Jesse C. Polhemus.