Brown CS Graduates A Record Number Of Undergrads: 39% Are Women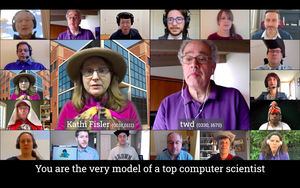 Click the link that follows for more news about Brown CS growth and increased enrollment.
Brown University's Department of Computer Science (Brown CS) is reporting another record-breaking graduating class. According to Vice Chair Tom Doeppner, Brown CS graduated 297 undergraduate students, its highest total ever, as well as 89 Master's students and eight PhDs.
"297 students is a 14.7 increase over last year," says Tom, "which in turn saw a 4% increase over the prior year. We're already Brown's most commonly chosen concentration, and enrollment is not only still growing but accelerating." 
39% of the undergraduates are women, a figure that's almost twice the national average.
Due to the COVID-19 pandemic, Brown CS saluted its graduates virtually, creating a website of celebrations that included congratulatory posters, slideshows, historic photos from the Brown CS Digital Archive, and a video of faculty members singing a Gilbert-and-Sullivan-inspired song. The video has since gone viral, earning thousands of views and praise from Ruthe Farmer, formerly the Senior Policy Advisor for Tech Inclusion at the White House Office of Science and Technology Policy.
For more information, click the link that follows to contact Brown CS Communication Outreach Specialist Jesse C. Polhemus.